History of the Art Quilt
Yvonne Porcella's Thoughts on the Art Quilt Development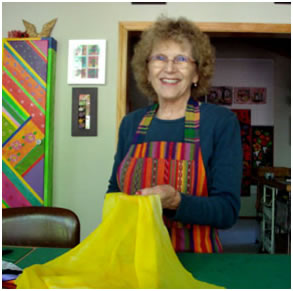 Yvonne Porcella, an artist specializing in wearables and art quilts, began in 1962 by making unique garments, wall hangings and quilts. Currently her work is featured in major exhibitions, art galleries and museums. Her work is a vibrant expression of an artist who knows how to handle color with an apparently endless palette. She hand paints fabrics to achieve a soft pastel watercolor effect and uses a variety of these fabrics to create her art. In addition to these subtle pieces, Porcella produces work that is bold and vibrant, using pure color in contrasting and synchronous relationships to convey a cumulative dynamic effect. Her work has toured in national and international shows of contemporary American quilt makers and is actively collected by individuals and corporations.
Porcella is Founder and served as President of the Board of Directors of Studio Art Quilt Associates. She has taught and lectured throughout the United States, Canada, Australia, Europe, and Japan. The Renwick Gallery of the Smithsonian Institution, Washington D.C. acquired her quilt "Takoage" in 1994. In 1998 her quilt "Answer the Riddle"  was included in the 9th Invitational Triennial of Tapestry in Lodz, Poland. Also, in 1998, she was inducted into the Quilters Hall of Fame, in Marion, Indiana and in 1998, she was the 5th recipient of the Silver Star Award at Quilt Festival in Houston, Texas.
1960  I think the art quilt tried to happen and sputtered a little bit in the 1960's. Some of the early quilters such as, David Horning, were producing some amazing creative quilts. Of course Jean Ray Laury created remarkable design imagery that was simple, yet bold in color in an early 60s style.
1972 Both Michael James and Beth Gutcheon were making art quilts. Beth had her book The Perfect Patchwork Primer. There was an awakening begining in California that developed with  the Haight-Ashbury scene. Sony Lee Barrington and other artists were making quilts. Alexandria Jacoppetti authored a book titled Native Funk and Flash showing patchwork, embroidery, woodworking, wearables, glass, etc.
1973 Jonathan Holstein and Gail Van der Hoff produced a show at the Whitney called The Pieced Quilt: An American Design Tradition, and that traveled to Europe. Many European artists saw these American quilts and became interested in making their own style of art quilts.
1974 The Levi Denim Art Show, organized by the Levi Strass Co. was at the De Young museum. A whole new idea of creating things by hand took hold. Artists from all over the U.S. sent in slides showing altered denim pants and jackets. A selection of which was displayed at the museum. The catalog used the phrase "Art on the Hoof"
1976 I think the cutting edge was in 1976 when a national magazine  put out a call for entrees to chose a winning quilt from every state. I remember Joan Schultz was a California winner. A needle point artist in New York  called all of the winners to ask how they made their  quilts, just casual conversation. Then she tried to produced a book based on these interviews. No one had authorized this. A class action suit was filed against the woman and the magazine to stop this from happening. Subsequently the magazine had all of the quilts in New York to photograph them and there was a fire in the warehouse where they were stored. Many of the quilts were damaged. That really put quilts in the forefront because of the unauthorized, plagiarized  book attempt and the fire. It got everyone talking about this whole new concept of the quilt as art.
1979 There was a major quilt show in a New Jersey museum, many east coast artists viewed this exhibit, following the Whitney show. This exhibit again validated the quilt as art. 1979 was the first time I was invited to teach at the West Coast Quilters Conference produced by Delores and Herb Studie. the conference brought all of the prominant people together. There was Beth and Jeff Gutcheon, Michael James, Virginia Avery, Robby Fanning, Sonya Lee Barrington, and Jinney Beyer as the instructors. That was really big. I believe that conference had a  big role in educating the public that the quilt could be different, and patchwork clothing could be worn and enjoyed.
1980 Roberta Horton had been teaching in the Bay area and quilt shops were opening everywhere. Marilyn Davis became the owner of  Patience Corners in Berkeley. More people were beginning to experiment with quilt making.
1981 Michael Kyle and Roderick  Kiracofe started the Quilt Digest Press. They had an interest in the history of antique quilts and were now adding contemporary quilts to the gallery pages of their publication Quilt Digest. In 1981 I was a guest on Penny McMorris's PBS Crazy Quilt series. My work was featured in a gallery exhibit in Michigan and Penny came to tape a segment for their show. I demonstrated a new tool that had just been introduced in the U.S., the rotary cutter. We didn't have the mat, we didn't even have the rulers yet.  I layered newspaper over cardboard and I cut out strips and that introduced the rotary on public television in 1981.
1984 Penny McMorris and Michael Kyle had an idea to produce an art quilt exhibit. Their idea was to have a definitive museum quality show that would awaken collectors to this new form of quilt. The exhibit showed the viewers that the quilts could be larger and more in the art genre. As artists, our mandate was to make works at least 100 inches square. The ceilings of the first venue were 18 ft tall. They asked me if I could make a kimono to fill that space.  I said no! Lets back it up a little bit. They  wanted it to be the entry piece to the show and in my naivety I didn't know what that meant.  It meant it would be the first piece as you entered the show. I compromised and made a  piece 11 feet tall!. The Art Quilt exhibition, with a beautiful book to accompany the show, traveled for three years and set the standard for museum quality exhibits.
1989 Nothing was happening on the level of an official organization for the art quilt.  Martha Connell of the Great American Connell Gallery in Atlanta came to me with an idea of starting one. She said she was  successfully selling woodwork, glass and baskets. Each of these craft media had an organization. She could go to a collector and say this is the cream of the crop of wood turners and this is the cream of the crop of furniture makers. When you have an organization like that it defines the artists and distinguishes individual styles of work.  It is more enticing to a collector to see the body of work and to say wow I have to have one of Pam Studstill's  or one of Michael James. Martha Connell  asked me if I  would like to take on the job of starting an organization? Well, what the heck I had nothing else to do. I had already organized the hand weavers conference in 1972 and 1980 which was 1500 people so this was no big deal. I can deal with this. And the rest is history .
The Pioneers of the Art Quilt
There were some of us who never would have made a  quilt. We weren't repetitive and mathematical and all that block making seemed so tedious, we just sort of struck out on our own.
Linda McDonald   and Sonya Lee Barrington created geometrics in the beginning.  Sonya used a wonderful  fabric that had a shiny surface. Therese May with her whimsical creatures, Joan Schults' early quilts were very mysterious with hints of landscapes. Katie Pasquini Masopust certainly fell into that category, making the mandalas and the redwood trees. Nancy Halpern of course, Nancy was doing geometry, but she was creating things that when you looked at it you wondered how did she ever figure that out? Another artist was Maria McCormick Snyder, who only used the log cabin block but was really skilled at making it look like art deco. Terry Mangat continues to be an amazing artist, as well as Michael James and Nancy Crow. These were the innovators. These were the ones that defined the movement. 1985 to 1995 was an important decade where the major innovative work came forward.
Some of these same artists that produced in the 80s are still making art work today. There is a longevity in the artists genre but all have had changes in their style. Linda McDonald is now painting, Nancy Erickson is still creating her environmental pieces and still having exhibits, Therese May went from her creature period to her compassionate and positive imagery period. These artists have maintained this movement and their work has sustained them . There are so many that I can think of that were a huge influence on the quilt world, Jane Burch Cochran, Jean Hews, Joyce Marques Carey, Julie Berner, Kay Burlingham and on and on. Many of whom are still creating their art quilts.
The following quilts are by some of Yvonne's favorites. Shown are early works from the 80s and then their more current works. Enjoy!