Featured Quilters
Katie Pasquini Masopust is our master of ceremonies and has gone to great lengths to line up a fabulous team of instructors who have offered a rich variety of courses throughout the years at Alegre Retreat. Featured Quilters spotlights these fabulous teachers.
---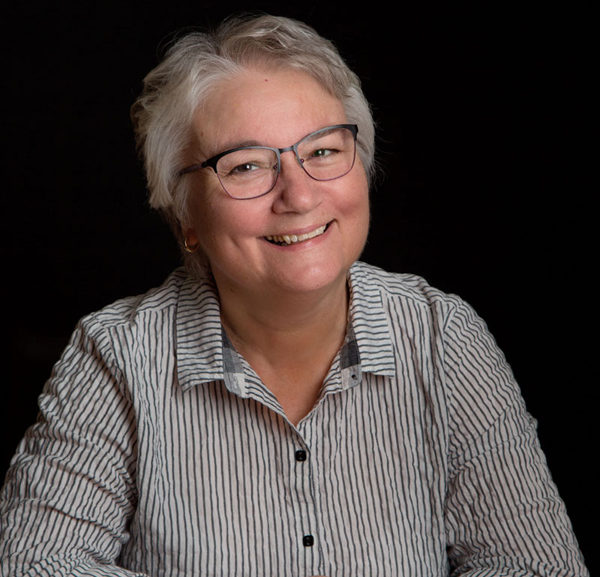 Laura Wasilowski is a textile artist and creator of hand-dyed fabrics and threads. Her pictorial art quilts (created from fused fabrics and hand-embroidered or machine quilted) are collected and exhibited internationally. Wasilowski's free-form embroideries share a similar style with her narrative quilts. Whimsical in nature, both textile art forms express her joy and love of creating art.
Owner of the dye shop, Artfabrik, Laura is also a lecturer, surface designer, quilt instructor, pattern designer, and author of Fusing Fun, Fuse-and-Tell, Fanciful Stitches, Colorful Quilts, and her latest book Joyful Stitching: Transform Fabric with Improvisational Embroidery.
Artist Statement: I combine vivid fabrics and whimsical stories to make pictorial art quilts. My colorful, hand-dyed fabrics inspire me, as do stories of my family, friends, and home. These pieces often chronicle my life. Each wall piece I make is of my own design, of fused appliqué, and machine quilted. Creating with fused fabric allows my work to be joyful, organic, and more inventive. It is the most direct route from a design idea in my head to the realization of that idea in fabric.
The art of quilting gives me the freedom to express myself and play at the same time. It's the best job in the world!    
---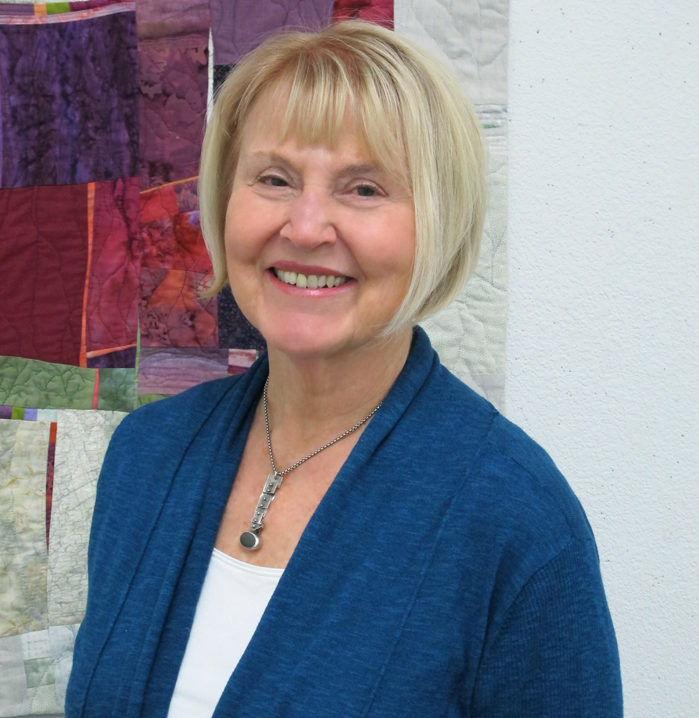 Jean Wells Keenan: Recurring themes in my textile art have to do with natural configurations: rocks, trees, grasses, flowers, and the land. They are the common thread running through my mind as I work intuitively designing quilts letting the designs take on a life of their own. Nature and the world around me is my main source of inspiration. I am fascinated with line, pattern, shape, color, and texture, and how to design with these elements capturing the essence of what I see and feel. My favorite quotation is from Emerson, "Nature always wears the colors of the spirit."
As owner of The Stitchin' Post in Sisters, Oregon for 44 years I have been involved in quilting industry as an author, and workshop/lecture presenter. I received the Business of the Year and Citizen of the Year award in Sisters, and was the first independent retailer to be inducted into Primedia's Independent Retailer Hall of Fame. In 2010 I was inducted into the Quilter's Hall of Fame in Marion, Indiana and also received the Michael Kile Award of Achievement honoring commitment to creativity and excellence in the quilting industry. The Stitchin' Post was one of the first stores to be included in the American Patchwork and Quilting top ten quilt shop issue. I am the author of 30 books, the most current being Intuitive Color and Design, 2nd edition, and Journey to Inspired Art Quilting.
I have also participated in several gallery shows with my contemporary work as well as the Yokoyama and Birmingham quilt shows, designed fabric, appeared on televised quilting shows, taught business classes, and appeared as an artist on OPB's Oregon Art Beat. In 2000 I won the Imagination Award in the Millennium Quilt Contest, 2nd place in the Small Abstract category in 2010, 2nd in 2016, and 3rd in 2017 at the International Quilt Festival, Best Use of Color at the 2010 Pacific International Quilt Show, Quilt National 2019, Shifting Tides SAQA show 2019.
---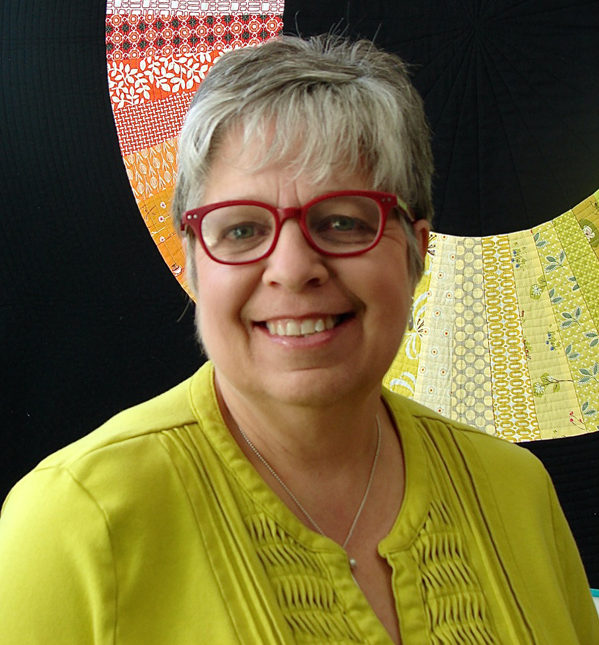 Jacquie Gering: Jacquie is a passionate modern quilt designer, maker and teacher. She is known for her innovative designs, striking message quilts and unique style. Jacquie co-authored Quilting Modern: Techniques and Projects for Improvisational Quilts and her book, Walk: Master Machine Quilting With Your Walking Foot is a comprehensive guide to all things walking foot quilting.
She is a leader in and advocate for the modern quilting movement. The International Association of Creative Arts Professionals named her Quilt Teacher of the Year for 2014. She lives in Kansas City with her husband Steve and her dog Sideways, and shares her quilting knowledge on her popular blog, Tallgrass Prairie Studio.
www.tallgrassprairiestudio.blogspot.com    
---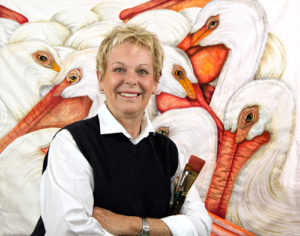 Velda Newman is a contemporary fiber artist from Nevada City, California. Her large scale designs, portraying subjects from nature, have been exhibited extensively throughout the United States, Europe, Australia and Japan. Newman uses textiles and thread the way other artists use paint and brush. Her primary source of inspiration is the natural world and her exquisitely crafted quilts reflect the detail and design she finds there. Her work has appeared in many national and international publications, including MASTERS Art Quilts, published in 2008, and is included in both public and private collections. Her quilt ZINNIA, was selected by Quilt Visions 2010 Committee to be the recipient of the Quilts Japan Prize.
Ms. Newman lectures and teaches her techniques on an international level for many conferences and quilt guilds. Her book, VELDA NEWMAN: A Painter's approach To Quilt Design was published by Fiber Studio Press. The second book, A Workshop With Velda Newman, was published by C&T Publishing.
---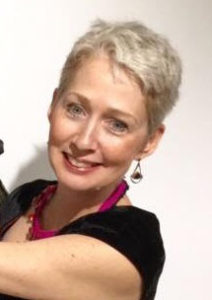 Kay Khan's sculptural work is in numerous collections including the De Young Museum in San Francisco, the Museum of Art and Design in New York City, The New Mexico Museum of Art in Santa Fe, the Racine Art Museum in Racine, and the Arizona State University Art Museum in Tempe. Her work has also recently been included in the books Textiles: The Art of Mankind and Fiber Art Today, among others.
She is currently a full time studio artist residing in Santa Fe, NM.
---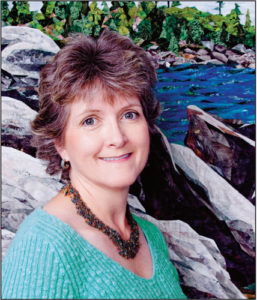 Cynthia England is a graduate of the Art Institute of Houston and has been creating quilts for more than thirty years.
Experimentation with quilting techniques led her to develop her own unique style "Picture Piecing".
Cynthia's quilts have been honored with many awards, including three Best of Shows at the prestigious International Quilt Association, as well as Viewer's Choice at the American Quilter's Society. Her quilt, Piece and Quiet was distinguished as one of the Hundred Best Quilts of the 20th Century.
Cynthia teaches and lectures nationally and internationally. To date, she has shared her techniques at quilting events in South Africa, Taiwan, Japan, South Korea, Germany, Canada, Australia, Spain and Mexico.
In addition, she is the designer and owner of England Design Studios which is a publishing/pattern company which specializes in the "Picture Piecing" technique. She has over 50 patterns that use this technique.
---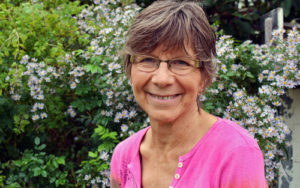 Susan Carlson grew up in suburban Maryland just outside of DC.
She now resides in Harpswell, Maine. Currently she teaches quilting nationally and internationally, at retreats, quilting shows and guilds, or fabric shops. She also runs her own retreats. She has written two books, Free-Style Quilts and Serendipity Quilts.
---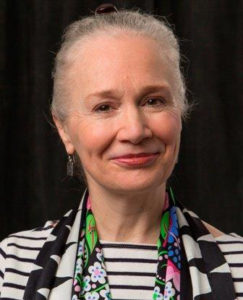 Jane Sassaman began quilting in 1980. Since then her graphic quilts have been shown in many national and international exhibits. Her quilt "Willow" was named as One of the One Hundred Best American Quilts of the 20th Century.
Jane is also the author of "The Quilted Garden", "Patchwork Sassaman Style" and "Color My Garden". Jane's love for historic decorative arts can be seen in all facets of her work, but it is especially evident in the exuberant fabric she is currently designing for FreeSpirit.
Most of her appliquéd art quilts are symbolic statements about the cycles and spiritual forces of life. By using colorful fabrics cut into dramatic shapes, she tries to express the energy and mystery of our amazing universe – from the miraculous beauty of a single blossom to the complicated powers of the soul. Her intent is to remind us that we are part of a bigger "cosmic" picture.
---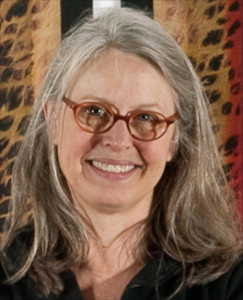 Elin Noble was born in Munich Germany to American parents. Much of her childhood was spent traveling and living in different parts of the US and abroad. She lives in New Bedford, Massachusetts, where she pursues her ongoing interests in dyeing and teaching.
She has spent more than 30 years investigating traditional and contemporary dye techniques, focusing on Japanese itajime shibori (clamp-dye resist).
She is the author of Dyes & Paints: A Hands-On Guide to Coloring Fabric and has lectured and conducted workshops across North America and internationally, most recently in Budapest, Hungary, Tilburg, Netherlands, and Tokyo and Osaka, Japan. Elin Noble has had one-person exhibitions at the Schweinfurth Art Center, New York; New Bedford Art Museum, Massachusetts; The Textile Center in Minneapolis, Minnesota; Visions Art Museum, California; La Conner Quilt and Textile Museum, Washington; and the Hillestad Textile Gallery, Lincoln, Nebraska.
---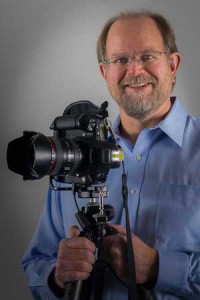 Gregory Case has been a professional photographer since 2002. He has been a regular contributor for such quilt magazines as The Quilt Life, Shuttle Spindle & Dyepot, Machine Quilting Unlimited, Modern Quilts Unlimited, and Mark Lipinski's/Quilter's Home. His travel, quilt, textile, and fiber art photography images have appeared in over 113 different books, magazines, and museum catalogs. Gregory and his partner, Elena Morera, have taught photography-related classes in 18 different international conferences/cruises.
He has photographed the "behind-the-scenes" for The Quilt Show for the last 16 seasons featuring Ricky Tims and Alex Anderson. He was on the SAQA Exhibition Committee for 7 years. He was also the photographer for the San Jose Museum of Quilts & Textiles for over 5 years.
His travel photography images are available for sale on Etsy (www.etsy.com/shop/GregoryCasePhotos) and are featured on his website (www.gregorycase.com).
---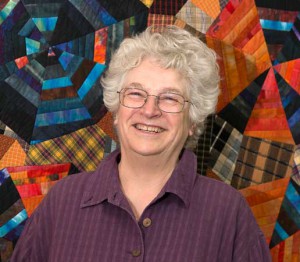 Cynthia Corbin sees her work as an eclectic personal expression based on the classical form of the quilt. Drawing on her love of both folk art and abstract art, she explores dyeing and painting, intensive machine quilting, and a problem solving, seat of the pants approach to quilt construction.
Cynthia Corbin's art quilts have been exhibited throughout the United States, Europe and New Zealand. Her work has appeared in many exhibitions, such as Quilt National, Artist As Quiltmaker, Quilts=Art=Quilts, Art Quilt Elements, Speaking In Cloth, Visions, CraftForms, and Fiberart International. She lectures and teaches nationally, applying her passion to the development of each student's individual voice.
As an artist, Cynthia has devoted herself to extensive study, working to deepen her understanding of the processes that drive her work.
As a teacher, she encourages her students in the search for uniqueness and authenticity in their own work.
Cynthia currently works in her home studio in Woodinville, Washington.
---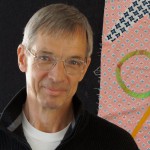 Joe Cunningham began making quilts professionally in 1979, after a ten-year career as a musician in Michigan. His early mentors were steeped in the history and traditions of quilts, leading Cunningham to a life of study in quilt history and a love of traditional technique. Over the years his quilts have evolved into a unique, personal style.
His quilts are in the permanent collections of museums, as well as in numerous private collections. Cunningham's 11 books on quilts include the 2010 book "Men and the Art of Quiltmaking," (the first book on the subject), a museum catalogue for the Shelburne Museum's exhibition, "Man-Made Quilts: Civil War to the Present," and his essay for the de Young Museum show "Amish Abstractions: Quilts from the Collection of Faith and Stephen Brown." His column for the national magazine The Quilt Life is called "Biased and Edgy." He has been seen on the HGTV series "Simply Quilts with Alex Anderson", the PBS series "Sewing with Nancy" and on "The Quilt Show" with Alex Anderson and Ricky Tims." He gives talks about quilts and teaches workshops nationwide.
---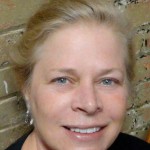 Jane Dunnewold is the former chair of the Surface Design Studio at the Southwest School of Art. She teaches and lectures internationally, has mounted numerous one person exhibitions, and won Best of Show in the exhibition Timeless Meditations at the Tubac Art Center (2013).
She received the Quilt Japan Prize in the 2002 Visions exhibition, and theGold Prize at the Taegue (Korea) International Textile Exhibition. Dunnewold is currently President of the international Surface Design Association.
Dunnewold has authored numerous books, including Complex Cloth(1996), Improvisational Screen Printing (2003), and co-authored Finding Your Own Visual Language (2007). Interweave Press published Art Cloth: A Guide to Surface Design on Fabric (2010.) Dunnewold maintains Art Cloth Studios, in San Antonio, Texas.
---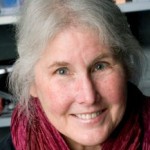 Linda Colsh builds her pieced, layered and stitched artworks from the images and ideas that she collects as photographs, drawings and writings. She is known for her images of elderly women and men. Anonymous and invisible to most others, her subjects come from the streets where she finds them. She strips away their context, and reworks them with new narratives and imagined scenarios. Each work begins with blank white or black cloth, which Linda alters with dye, ink, discharge and paint. She works with design software to develop her images for printing by digital or traditional methods. Her process is weighted to designing and preparing content and cloth before the actual stitching together.
American artist Linda Colsh recently returned to the United States after living and working for 24 years in Belgium and 2 years in Korea. A lifelong artist with two degrees in Art History, she exhibits and teaches internationally. She has curated, juried and judged exhibitions throughout the world, including Quilt National 2013, Japan's Quilt Nihon 2014 and Visions 2010. In addition to magazines, books and websites from many countries that have featured her artwork, Linda has authored articles for publications in Asia, Europe and America. Her art quilts are included in museums and collections worldwide, including the Collection of John M. Walsh III and Germany's Nordwolle Textile Museum. Among her awards are the European Quilt Triennial First Prize, Nihon Vogue's Quilts Japan Prize at Visions 2012 and top prize of the Fabric of Legacies Exhibition in Colorado.
Linda Colsh serves on the Advisory Board of the International Quilt Study Center & Museum. Previously, she served two terms as Board member and Secretary of Studio Art Quilt Associates; and, in addition to her work on several SAQA committees; she was the organization's first Representative for the Europe/Israel region.
---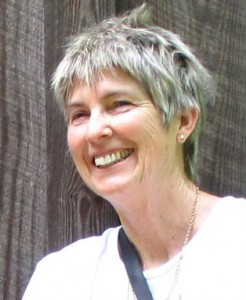 Elizabeth Barton: Elizabeth makes wall hangings from layers of cloth that have been painted or dyed, cut into pieces and reassembled.  The imagery she depicts is related to places she has experienced. Elizabeth explores the beauty of everyday environments both cityscapes, industrial and rural landscapes, to create a sense of place and reveal the dynamic bones of the scene.
Barton was born in York, England, educated in England and U.S.A., obtained a Ph.D  and emigrated to U.S.A.  Whilst working in the health service at the University of Georgia, she began to make quilts, focusing on Art Quilts with the encouragement of an NEA grant and acceptance into Quilt National with her 13th quilt!
www.elizabethbarton.blogspot.com
---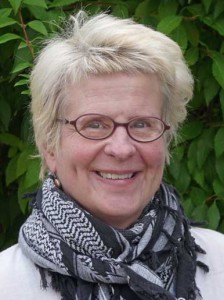 Wendy Huhn was born in Phoenix, Arizona and received her BFA from the University of Oregon in Eugene. In 1980 Huhn was the recipient of the Quilts Japan Award from Nihon Vogue Corporation, Tokyo, Japan. She was awarded an Oregon Art Commission grant which allowed her time to explore the ancient art of grave rubbing. Huhn currently lives and works in the Lost Creek Valley, nestled in the foothills of the Cascades.
Huhn's work is included in numerous public and private collections. Teaching venues include – Arrowmont, Penland, University of Oregon, Surface Design Association conferences as well as internationally. Wendy works in textiles, collage and mixed media. She superimposes imagery on painted and sanded canvas or small hand embroidered collages. Huhn continues to be fascinated and experiment with various methods of transferring image, design and pattern to cloth.
---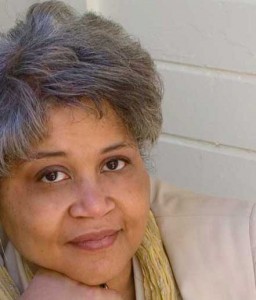 Valerie S. Goodwin is a mixed media fiber artist and architect. Most of her work is inspired by her love of aerial views of landscapes and cities. Many of her quilts are based on maps. Her art has moved through various stages from traditional quilting to an interest in abstract expressionism and, more recently, work inspired by real and imaginary landscapes and cities. In some cases her work shows an architectural sense of space with an archeological perspective.  In others, the network of the city and its built form is more prominent.  Her compositions work on a number of levels, from close up and far away as if you were looking at it from above.
She received degrees in architecture from Washington University and Yale University. Her award winning work has been widely published and exhibited. She has also lectured and given workshops nationally and internationally. Currently she teaches architectural design at Florida A & M University. Her book titled: "Art Quilt Maps: Capture a Sense of Place" published by C & T Publishing
---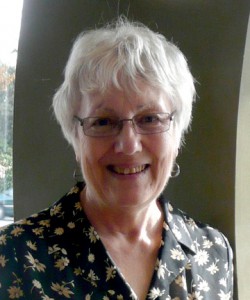 A condensed history of Joan Schulze's art making on cloth and paper begins in 1970. Beginning with her first quilt in 1974, Schulze altered fabrics in a variety of ways—dyeing—begun in 1967 which ended by 1987 now includes the following media: photography and photocopy processes (1970 to present); painting, Xerox transfer, direct and glue transfer processes (1980 to present) and digital technology (begun in 1990). Her interest in technology continues.
Many curators have noted that Joan Schulze's work relates to collage and poetry. Themes have evolved over the years. Her quilts from year 2000 continue to show her interest in nature and the urban landscape. More recently Schulze has been exploring and combining new themes related to dancing and movement.
Her black and white compositions on silk are the result of experiments to find a new way to draw. These toner drawing quilts use the photocopy machine to not only print on cloth but to create new images and marks layered on previously altered surfaces. These complex art works combine favorite themes in new ways only possible by layering digital photography, the older photocopy processes and painted cloth and paper.
---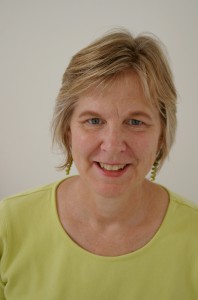 Jan Myers-Newbury is known for her geometric, pieced quilts using hand-dyed fabrics, and more recently for works using shibori fabrics of her creation. She has exhibited and taught nationally and internationally, been included in fourteen QUILT NATIONAL exhibitions (more than any other exhibiting artist) and in 1993 won the Best of Show award.
Her work is in the permanent collections of the Museum of the American Quilters Society, the American Craft Museum, the Minneapolis Institute of the Arts, the Museum of the American Quilters Society, and the Minnesota Historical Society. 6 of her quilts are in the collection of the American Quilt Study Center in Lincoln, Nebraska. Nearly 200 of Jan's quilts are included in corporate and private collections throughout the United States.
In 1999 she was an artist presenter at the Third International Shibori Symposium in Santiago, Chile. Also in 1999, her quilt "Depth of Field: A Plane View" (made in 1986) was selected as one of the 20th Century's 100 Best Quilts.
Jan's studio is in her home in Pittsburgh. She is an active member of the Fiberarts Guild of Pittsburgh, sponsoring organization of the biennial exhibition "Fiberart International", and served on the board of directors of the Surface Design Association 1999 – 2005. At the present time her teaching is itinerant and confined to workshops in places where she really wants to teach!
---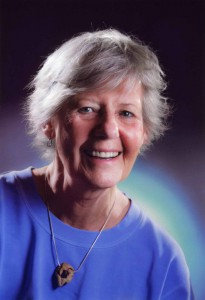 Mickey Lawler and her SKYDYES have become synonymous with the finest individually hand-painted fabrics available to quilt and fiber artists. Her fabrics have been used as a design focus in quilts by many of today's most illustrious quiltmakers including Michael James, Judi Warren, Katie Pasquini Masopust, Jo Diggs, Ruth McDowell, Charlotte Warr Anderson, Paula Nadelstern, and many more.
Mickey's own quilts have appeared as part of the "Fabric Gardens" exhibit sponsored by The Dairy Barn and as the Two of Diamonds in "Art Quilts: Playing With A Full Deck", a Smithsonian Traveling Exhibit.
Using her grandmother's quilts as her only guide, Mickey began making quilts in 1970 and within ten years had constructed and hand-quilted over 100 full-size and crib-size quilts and had taught quilt making to more than 1000 students. Along with co-authors, Sarah Gobes, Sheila Meyer, and Judy Robbins, Mickey wrote Not Just Another Quilt (Van Nostrand Reinhold, 1981) which contained twenty original contemporary quilt designs and patterns at a time when few non-traditional patterns were available.
In 1980 she opened a quilt shop and soon began dyeing, then painting, cotton to satisfy her own need for landscape and textural types of fabric. When it quickly became apparent that other quiltmakers were drawn to her fabric, she sold her shop, turning her energies, and passion, to painting fabric full-time.
Author of SKYDYES: A VISUAL GUIDE TO FABRIC PAINTING (C & T Publishing, 1999); an instructional DVD on Landscape Painting (C&T Publishing, 2009), and SKYQUILTS (C&T Publishing, 2011), Mickey has been in demand as an enthusiastic instructor of her serendipitous style of fabric painting for the past 25 years.
A life-long resident of Connecticut, Mickey received her BA from The College of New Rochelle and M.Ed. from the University of Hartford and has engaged in independent art studies through university and private courses. She lives in the town in which she grew up and continues to be inspired by the landscape of New England.
---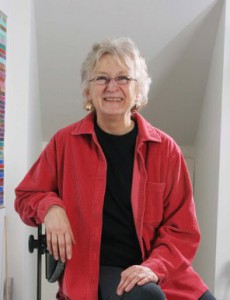 Elizabeth Busch is an internationally renowned artist who has a BFA from the Rhode Island School of Design. She has been making painted quilts since 1983, and has been making a living as a self employed artist since 1987. Two renovated barn studios attached to her 1865 Maine farmhouse provide space for her to create large scale commissioned wall quilts and suspended Kinetic Sculpture. These exciting and challenging projects are the main source of her income.
While commissioned pieces feed her body, her personal quilts, feed her soul. These quilts are very personal and often appear in exhibitions and publications. From such work she has won numerous awards, including the Quilts Japan Award and Best in Show from Quilt National. In 2009 she was given a retrospective exhibit at the Visions Art Quilt Gallery in San Diego. Her Art Quilts have also provided the opportunity to satisfy Elizabeth's desire to connect with likeminded people who want to learn. As a result, she has taught workshops throughout the US and abroad since 1985.
Please see www.elizabethbusch.com for books and magazines in which her work is published, where she has taught, and the collections where her work may be seen throughout the USA, EU, AU, NZ, Canada and Japan.
---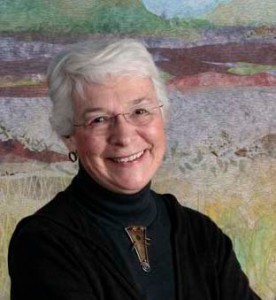 Barbara Lee Smith was born in New Jersey and did her undergraduate work at Douglass College, Rutgers University. She holds an MFA (Mixed Media) from Northern Illinois University where she was a University Scholar. She has had solo exhibitions and been part of group exhibitions in the United States, Japan, Canada, Great Britain, France and New Zealand.
Her work is in public, private and museum collections in North America, South Africa, New Zealand and England, including the Smithsonian Institution. She is represented by the Jane Sauer Gallery, Santa Fe. Her work was recently exhibited at the Tacoma WA Art Museum. Recent solo shows include The University of Nebraska, Lincoln, the Bellevue Arts Museum, Jane Sauer Gallery and Snyderman-Works Galleries, Philadelphia.
She has taught and lectured internationally, and was a Visiting Professor at Joshibi College of Art and Design, Tokyo for five years. She is the author of Celebrating the Stitch: Contemporary Embroidery of North America (Taunton Press, 1991). An exhibition based on that book traveled in the United States, Canada, Great Britain and Japan for three years. In 2011 she was Guest Curator at the Gregg Museum, North Carolina State University, Raleigh where she organized an international exhibition of twelve artists. Traces: Mapping a Journey in Textiles, was exhibited from January through May. In addition, the Gregg's Senior Curator selected a solo show of Barbara's work, titled Pull of the Moon. The exhibitions, which ran simultaneously, are documented in two catalogs by the same name as the exhibitions.
In 2000, in honor of her international work on behalf of embroidery and embroiderers, she was made an Honorary Member of the Embroiderers' Guild, United Kingdom. In 2009 she was honored with a four-hour interview that is available from the Smithsonian Institution's Archives of American Artists. In 2002 she received a Distinguished Resident Lifetime Award from the Ragdale Foundation, Lake Forest, Illinois. A recent honor was to be named a recipient of the Margaret K. Williams Arts Award by the Pierce County Arts Commission, Tacoma, WA. Her home and studio are on Raft Island in Gig Harbor, Washington.
---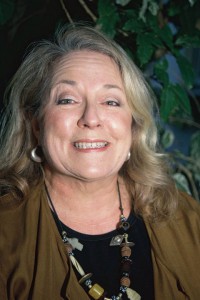 Rosalie Dace is a full time quiltmaker whose work reflects her passion for colour, pattern and texture. She has had a lifelong interest in art generally and textiles and embroidery in particular. She has a BA in Fine Art and English, and a post-graduate teaching diploma (U Ed), all from the University Of Natal, Pietermaritzburg, South Africa.
While she values the traditions from which our quiltmaking has come, she believes that a quilt should say something about its time and place in history.  This, and her awareness of being a South African artist, give her work its particular character.
Locally she is a member  of Grassroots Quilters' Guild, Village Quilters' Guild, Natal Quilters' Guild and the South African Quilters' Guild of which she was the first President in 1989. She is currently chairperson of Fibreworks, a group of full-time exhibiting artists.
In America, she serves on the Advisory Committee of the Schweinfurth Memorial Art Center in Auburn, New York.
She has participated in numerous local, national and international exhibitions.  Locally these include exhibitions at the Grassroots Gallery, the Anthea Martin Gallery, the African Art Centre, the Tatham Art Gallery, the Natal Society of Arts and Midlands Arts and Crafts Society galleries and the NAPAC Living Arts exhibition (all in KwaZulu-Natal).  She has exhibited at Association of Arts exhibitions in Pretoria and Bellville, and exhibited regularly at Innovative Threads in Cape Town.  She has also participated in exhibitions at the Pacific International Quilt Festival, Quilts=Art=Quilts, Houston International Quilt Festival, the Fresno Art Museum in California, and exhibitions in London, New Zealand, Australia, Bad Homburg, Hanau and Berlin in Germany, and in Paris, France.  In 2002 she exhibited work at the NSA Gallery in the Clay and Fibre Exhibition.  She has also had work on several touring exhibitions including: the Jabulisa Exhibition (which toured South Africa), and the Innovative Threads and Fibreworks exhibitions.
She has been invited to open several art and quilt exhibitions including those  in South Africa,  Australia and Germany, and has delivered the opening or closing addresses at a number quilt conferences in America.
She has been teaching quiltmaking and embroidery in South Africa since 1983, and has been invited several times to teach at quilt conventions and workshops in America, Australia, New Zealand and Germany.  She is a national and international quilt judge and has been involved for some time in training judges.  She was a judge at the South African National Quilt Festivals in 1989, 1994 and 2002.  She was also the chief juror for the Innovative Threads 1999 exhibition in Cape Town, and chief judge at the New Zealand National Quilt Symposium 2003.She has judged at PIQF, the World Quilt and Textile Show, and was a juror for Art-=Quilts=Art.
Apart from her normal art and teaching commitments she has in the past taught Art and English at various schools and colleges including elementary and high schools and at university level. She has worked in a school readiness program, and been invited as an opening speaker at a conference for Education For Girls In a Technological Age. She has also been involved in programs aimed at training in embroidery skills for Zulu women in Durban and in rural KwaZulu-Natal.
Her work, which has won several awards, including Best of Show at the South African National Quilt Festival in 1988 and 1998, is to be found in private collections, in the Durban Art Gallery, and First Rand Bank, and has appeared in national and international publications.  Some of her work can also be seen on her own website as well as that of the Fibreworks group.
---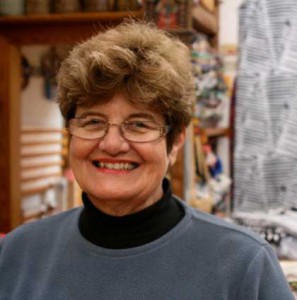 Artist Nancy Crow has been making quilts for over 30 years and maintains a large studio and teaching facility on her 90 acre farm east of Columbus, Ohio. Nancy was named a Fellow of the American Craft Council in 1999 and in 1996 received two major awards: Individual Artist's Fellowship from the Ohio Arts Council and The National Living Treasure Award from the University of North Carolina at Wilmington.
She has had major solo exhibitions at the Renwick Gallery/National Museum of American Art/ Smithsonian Institution and at the Museum of Arts & Design in New York City. In 1998, she had a one-person exhibition at the Cultural Arts Museum, Konstanz, Germany. In 2005, she had major solo exhibitions in New Zealand at the Auckland Art Museum and the Hawke's Bay Exhibition Centre. In 2008, she had a major solo exhibition at The International Quilt Study Center & Museum, The University of Nebraska, Lincoln, and most recently, an exhibition of 55 quilts at Carnegie Mellon University's Regina Miller Gouger Galleries, Pittsburgh, Pennsylvania.
In 2009, she will exhibit a large body of work at The Butler Institute of American Art, Youngstown, Ohio, and in 2010, she will have solo shows at The Fuller Craft Museum, Brockton, Massachusetts, and at The Schweinfurth Memorial Art Center, Auburn, New York. Nancy teaches quiltmaking as an art form using improvisational techniques that allow for enormous personal interpretations. She has taught in Finland, Denmark, Belgium, Ireland, Austria, England, Germany Switzerland (2009, 2010, 2011), Spain, Australia (2011), New Zealand (where she will teach for three weeks in January 2011), Japan, Canada, and South Africa (where she taught in August 2009 at a retreat in the Drakensburg
---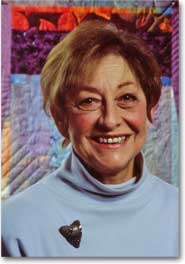 Since 1981, Judi Warren Blaydon has judged quilt shows and presented lectures and quilt-making worships in the U.S., Japan, Canada and Switzerland. A background in Art Education, an MFA degree and experience teaching Design and Drawing Foundations at the college level enable her to convey color and design vocabulary in a supportive and challenging classroom environment and to encourage her students to explore, discover and express personal themes in their quilts. Her work has been included in Quilt National and Crafts National exhibitions and is in private and public collections in America, Japan and Australia.
Judi has written articles for American quilter, Quilts Japan, Patchwork Quilt Tsushin and Quilting Today magazines and is the author of "Fabric Postcards: Landmarks and Landscape/ Monuments and Meadows (AQS 1995). Her current book is "Collage+Cloth=Quit: Create Innovative Quits from Photo Inspirations" (C&T)
Her work is included in "88 Leaders in the Quilt World Today" (Nihon Vogue 1995), in Robert Shaw's "The Art Quilt" and she designed the "Buds and Blossoms" fabric for Bernartex, Inc. Her quilt, "The Mountain and the Magic: Night Lights" is in the permanent collection of The American Quilters Society and 15 of her pieces were exhibited at the New England Quilt Museum in 2001.
---
Emily Richardson has a background in fashion design (BS University of Cincinnati) and theatrical costuming, and has been making art quilts since 1988. She received a 1995 grant from the Pennsylvania Council on the Arts, the 1997 Leeway Award for Excellence in Fiberarts, and the 2004 Nihon Vogue Quilts Japan Award. She has exhibited throughout the U.S. and abroad including several solo exhibitions at Gross McCleaf Gallery in Philadelphia and Jane Sauer Gallery in Santa Fe.
Her work recognized for its painterly and expressive qualities and is in many corporate and private collections including the Museum of Arts and Design in New York, and the International Quilt Study Center in Lincoln, NE, and the Nihon Vogue Company in Tokyo. It has been published in exhibition catalogs, Surface Design Journal, Fiberarts, and The Art Quilt by Robert Shaw.  Emily maintains a studio in her Philadelphia home and is represented by the Gross McCleaf Gallery.
---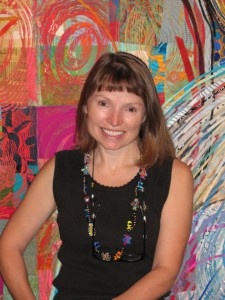 While pursuing a degree in molecular biology and masters in biomedical illustration, Sue Benner created her vision of the microscopic universe in painted and quilted textile constructions.  Her early work propelled her to become a studio artist in 1980, working primarily in the medium which later became known as the Art Quilt.
Sue is an innovator in her field, creating original dyed and painted fabrics which she combines with recycled textiles to form fields of structured pattern, vivid beauty, and riotous variation.
Sue's artwork is in many private, corporate, and institutional collections.  She also lectures and teaches workshops nationally and internationally in the fields of surface design, textile collage, fused quilt construction, and artistic inspiration. Her work has been juried into Quilt National seven times, and she served as a juror in 2009.
Living in Dallas, Texas with her husband, Craig Jett, and their two sons, Sue works in her studio built in the backyard of their family home.  However, a part of her heart resides still in her home state of Wisconsin.
---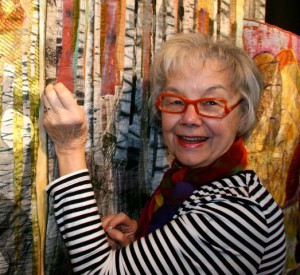 Patty Hawkins creates art quilts in her wonderful Estes Park studio built by husband, Wes; both shared joint exhibitions, 2005 and 2007.  Proud of three creative, grown children and have a loving springer, Mandy and Marigold, stinker cat.
Honors: 2008 Larimer County Visual Artist; 2007 Quilt Japan Prize (gifted trip to teach and tour), 2005 artist in Residency in Rocky Mountain National Park; juried into prestigious Quilt National and Quilt Visions, Smithsonian, American Folk Museum, and Many local venues.
It is privilege to teach at many conferences and guilds, 20 years quilting follow 15 years working in watercolor.  1987 Denver Art Museum featured stunning art quilts in Craft Today, Poetry of the Physical; pivotal to realize quilts for a larger "canvas".  Although Patty grew up in Louisiana; she and Wes consider themselves westerners, loving the open spaces, hiking the mountains, and cherishing Nature.
---
Carol Shinn is a studio artist who lives in Fort Collins, Colorado. She is known internationally for photo-realistic machine-stitched images. She holds a BFA from the University of Colorado and a MFA from Arizona State University.
She has taught many classes and workshops across the United States including classes at schools such as Arrowmont, Penland and Haystack. She has also taught at Arizona State University, Tempe, AZ and at Mesa Community College, Mesa, AZ. She is the author of "Freestyle Machine Embroidery," which will be released in Spring 2009 by Interweave Press.
Her work is in numerous public and private collections. Her work has been featured in such publications as American Craft, Embroidery, Fiber arts, Georgia Review, and Surface Design Journal and in books such as The Nature of Craft and the Penland Experience, Discovery: 50 Years of Craft Experience at Haystack Mtn. School of Craft, Celebrating the Stitch by Barbara Lee Smith, Fiber arts Design Book Six, and Fiber arts Design Book Seven.
---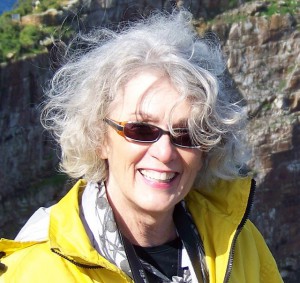 Fran Skiles was born in Cincinnati, Ohio. She graduated from West Virginia University with a BA degree in textile design.
She is a full time studio artist, working in Florida and West Virginia. In addition to her art practice she teaches and lectures throughout the United States giving workshops in paper and fabric collage.
In the 1990's, before making collage paintings, Fran made art quilts and exhibited them Nationally and Internationally. The venues included Quilt National, best of show 97', Visions, Quilt San Diego, British Craft Council's "American Art Quilt Exhibition, Fiber Arts International and Art Quilts; America of the Millennium in Strasburg, France.
---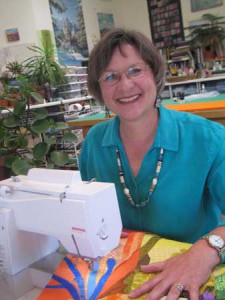 For nearly 30 years Katie Pasquini Masopust has produced high quality contemporary art quilts that have been coveted and collected by a broad range of admirers. From her early beginnings as a painter dabbling in traditional quilt making, her work has evolved from structured Mandalas and mind-blowing dimensional pieces to very painterly landscapes and abstracts executed with the finest fabrics and most creative stitching techniques. Katie's easy, energetic manner has made her a very popular teacher and lecturer.
When not in residence at her studio in Fortuna, CA  she travels the world presenting her contemporary quilting theories and techniques to classes; not only in North America, but in Europe, the Far East, Australia and New Zealand. Awards and accolades have been numerous for Katie, culminating with her 2005 induction into a very select group of art quilt professionals who have earned the Silver Star Award presented by Houston Quilt Festival.
A prolific author, Katie shares her enthusiasm for the art of creative quilting through her numerous books, her many classes, and now as a member of the Experius Academy Advisory Council as they work to develop the art mission for the new Gateway Canyons Resort in Colorado.
---