Art Quilt Interviews
You may click on a name below to quickly go to their interview:
---
Abigail Kokai (YEA Recipient 2011)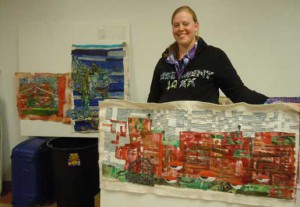 Abigail Kokai : As the recipient of the Young Emerging Artist Award at the 2011 Alegre Retreat at Gateway Canyons Resort, I never imagined how incredible the whole experience would be. The award provided an inspirational, educational, informative journey at an equally inspiring location. The community of quilters and artists attending the retreat welcomed my attendance and encouraged my work. It was an opportunity I would recommend to any young quilt artist.
I am currently an MFA candidate at the Savannah College of Art and Design, focusing in the area of Fibers. I heard about the YEA Award through a school bulletin. The retreat sounded very specialized for art quilters. The heart of my work was directed towards fine art and quilting and I had established a body of work exploring quilting as fine art.
The retreat sounded like a perfect opportunity to further explore my Thesis work, so I submitted an application. A few weeks later I received a very exciting email, and it just so happened that the dates of the retreat took place during my spring break at school.
The trip to Gateway, Colorado was an adventure. I flew into Denver and bussed down to Grand Junction. I had never been to Denver before so the skyline of the Rockies as seen from the airport seemed so massive but crisp. Then the ride along I-70 was geological eye candy. Seeing the landscape up close and the changing composition of the rock made me more and more excited about getting to Gateway. I had seen some images of the resort through the website, and it looked absolutely gorgeous. To think I would be spending a week there. Once I arrived at Gateway Canyons Resort I realized the location couldn't fully be described through photographs; it needed to be experienced. Just walking around the grounds, the ever changing scenes of the surrounding landscape stimulated every sense in my body. I couldn't take two steps without stopping to absorb the composition of the landscape, the colors, the wind dancing across my skin, the crispness of the air, the flutter of last fall's leaves skipping along the ground…it was like shedding an urban skin and feeling the natural earth once again.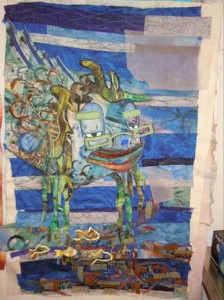 The opening reception of the 2011 Alegre Retreat was my introduction to the community of artists and quilters. I didn't know anyone, but in a matter of minutes I felt completely at home in this new environment. We shared a common thread through our love of fabrics and it was obvious we all really wanted to be here. Whether we wanted to take learn a specific technique or work with a specific teacher, we all wanted to push our individual artistic practices and express ourselves. And we did.
I took a class with Katie Pasquini Masopust. I had been exploring illustration in quilts by painting and stitching on the surface. Katie was teaching a class called "Painted, Stitched Canvas" so it seemed like the obvious choice. However, I wanted to wholly embrace this opportunity so I decided I was going to leave my thesis work aside. I mean, this was my spring break after all. Katie was a very energetic teacher and introduced us to so many tips, tricks, and techniques. I think it was all we could do to keep up with her. As the days passed, I noticed how much each of my classmates had really opened up through their work. We had daily critiques in class about our work, and countless conversations outside of class about art, quilts, and life.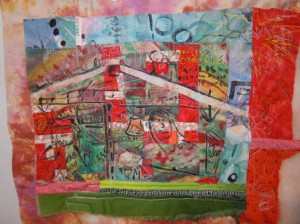 Every day was filled with activities. My personal favorite was hearing the lectures from the teachers. It was enlightening to hear the stories of how they had come into making art quilts. It really made me think about my own journey into art quilts and why I chose this medium. The topics discussed by all of the teachers began to reflect in my own work in the classroom. I pushed myself in the classroom and found myself completely inhaling every moment of the experience at the Alegre Retreat and Gateway Canyons Resort.  I looked forward to breakfast with classmates and had lunch with different attendees every day. It didn't matter who I sat with, by the end of the week everyone was family. Each night, with expansive perspectives of the mesas under a star speckled sky, the walk back to my room provided a visual dessert for the day.
The 2011 Alegre Retreat at Gateway Canyons Resort provided an experience I will never forget. It is a community, an education, a landmark, a muse, and a friend. Many thanks to the generosity of John and Maureen Hendricks for making the experience possible and supporting the Young Emerging Artist Award.  I encourage any art quilter to experience the Alegre Retreat at Gateway Canyons Resort.
---
Rosalie Dace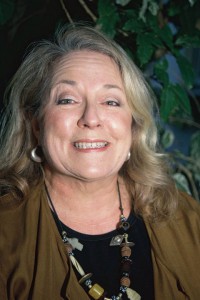 Rosalie Dace is a nationally known quilt artist from South Africa. We were honored to have her teach for us at the 2011 Alegre Retreat.
Katiepm: Rosalie, how did you come to be a nationally known quilt artist?
Rosalie Dace: I've always loved fabrics and some of my earliest memories are of feeling and playing with them. My father had brought back textiles from places he had visited and they were hung on the walls, including an embroidered saddle, cloth from India and a couple of woven west African textiles from Sierra Leone. My marvelous old great aunt, Auntie Min,  had full-length magenta damask curtains, cool silk cushions and a crunchy-feeling crepe wool crocheted afghan on the sofa. She embroidered cloths in strong colors like saffron oranges, purples and deep blues. Then there were the special pillow-cases that my Xhosa nanny, Lilian Mthembu embroidered for me in bright red and green. I remember watching her drawing around a coin to make flower petals and then writing the words "Good Night My Darling".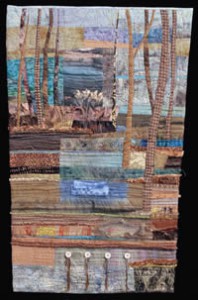 So I suppose it was inevitable that I would try sewing although that road was somewhat rocky. The only class I was ever thrown out of at school was sewing (for talking too much instead of getting on and sewing those dreadful pale pink pyjamas!). Fortunately I knew that sewing could be more exciting. Years later, as a young teacher at an Art Center in Grahamstown, South Africa, I was invited to join the local Embroiderers' Guild, not because they had ever seen any of my sewing, but because they needed a designer and were prepared to teach me to embroider if I designed for them. That sounded like a pretty good deal for me.
When I arrived at my first meeting I was told I had to choose a project, but the sight of all that controlled canvas work struck fear into my heart, and I knew I would have to do something no one else in the room was doing. So, never having seen an actual quilt in my life, I announced I would make a patchwork quilt. There were some dubious looks exchanged in the room as my new group explained hesitantly that 'well, that isn't really embroidery, you know….'  but, as I was just the designer, it was decided that it would be OK.
But those kind generous women opened up a new world for me and patiently watched as I stitched an early '70's brown and rust hexagon tablecloth! I went at it like a woman possessed, hand cutting hundreds of paper templates and rushing home from my art school job so I could see what the next double ring of hexagons looked like.  I guess it was pretty hideous but a new passion was born, and to my great surprise someone paid me what I thought was a fortune for it a few years later. $15 seemed a lot of money for something I'd had such fun with.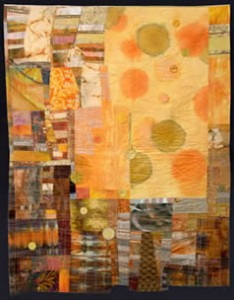 The bug had bitten as I found the feel of cloth in my fingers absolutely irresistible. I loved its softness and flexibility as I hand stitched in a quiet contemplative space, and above all I saw the endless possibilities of pattern-making. Although I had been painting and teaching art at an art center up to that point, the fabric gave me something that paint did not.
Katiepm: As an artist turning into a quilter, where did you go from there?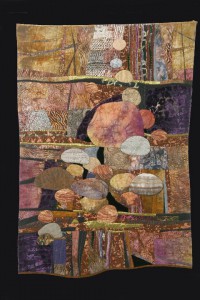 Rosalie:  I went on to make a few small gifts for friends. The first actual quilt that I made was for my three-year old son in the early '70's.  I bought a copy of McCalls Book of which  inspired me to make a quilt and I English paper pieced a Star of Bethlehem block about 14″ square. As I was stitching, following the pattern, I kept thinking 'Well, I could do this, or do that with this center star" I went on to do the rest by machine on my Bernina mini-matic. The book said something about 'batting'. Remember I'd never seen an actual quilt so I'd certainly never heard of batting, but I knew it had to be soft squashy stuff. So I persuaded my mother to part with one of her new flesh-pink acrylic blankets which I then machine quilted. The book said to hand quilt, but I knew that had to be a misprint. Why would it tell you to piece by machine and then quilt by hand? How weird, I thought. I didn't know machine quilting was difficult or would present any problems, so I doggedly pushed that entire twin-sized quilt through that faithful, little minimatic!
Clearly the book was also wrong when it gave instructions on making binding. Why do that when one could buy blanket binding? So it got bound with horrible slippery polyester blanket binding. But it got finished and the much-loved  quilt is still in use.
Katiepm: How did you get into teaching?
Rosalie: Friends asked me to show them how to make a quilt and I did a few years of sporadic general beginner how-to sessions to friends. The big change came when I made a reservation for the family to go to a Guest Farm for a long weekend. I thought it would be great for our little boys to ride donkeys and feed ducks. Then it hit me with a shock that I would have to pay for it. My husband, a teacher at the university, would never be able to afford it on the normal budget. So I called up all the people who had been begging for a proper quilt course and those who had begged me for children's art classes. With my background in teaching both art and English to a wide range of ages and levels, I knew I could come up with something that would help me pay for my family weekend away.
To my amazement everyone came, and the family went away for a great long weekend and a new career was born that I could operate from home. At that stage my boys were little and I wanted to be at home with them, so I taught a couple of classes a week in the mornings and was with the boys the rest of the day.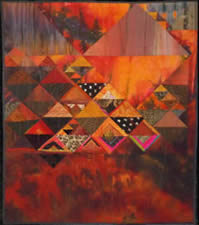 Katiepm: I love picturing you teaching and caring for your family and imagining each step on your journey.
Rosalie: Over the years both the quilt-making and the teaching has become an absolute passion. I was able to start traveling because my husband was totally supportive and willing to take care of the boys, the house and the dogs and cats. A huge step was when I met  Marty Bowne when I attended  Quilting By The Sound in Washington State.  Rosalie Dace
Katiepm: Marty Bowne is a wonderful supporter of the quilting arts. She and Mary Lou Schwinn started one of the earliest quilt conferences in upstate New York and called it Quilting by the Lake. That conference is still going on today, enfact that is where I first met you when we taught there together several years ago.
Rosalie: As a result of my meeting with Marty we have become good friends and over the years she opened numerous doors for me, introducing me to a great many people who then invited me to teach for them. I owe her a great debt of gratitude for this because that forced me to really step up and make sure I was doing the best I could do for my students. I am very mindful of the fact that these people are volunteering their time, energy and money to come to classes and deserve the best I can give them. I love teaching adults and my own challenge is to make sure they leave feeling they  have got more then they thought they would, and have gone beyond their own expectations. I love to watch the look of excitement and wonder as people discover their creativity and watch their self-esteem soar. That I can make that difference in someone's life is the pay-back for me, other than the obvious fact that it's the way I earn my living. I love meeting people and find that contemporary quilt making generally attracts people who are willing to be open-minded. So the teaching admirably combines my loves of developing creativity, meeting people and traveling.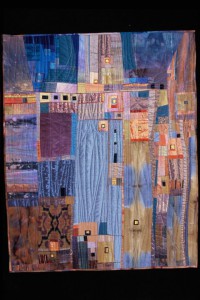 Katiepm: I find the down side of all the teaching is that it constricts the time I have to do my own work. How does you balance that?
Rosalie:  I spend just over half the year at home and  pay attention to my family and friends, home, and garden. And come up with new quilts and new classes! Of course one is always teaching design in the form of color, line, shape, texture etc, but with a new focus each time. I believe a good teacher has to keep fresh and up-to-date without being drowned by the latest fads. So it's hard to keep one's own work fresh and valid and demands just plain hard work. But that is exciting too. The more you do, the more you can do. I use every opportunity I can to work, even when not in my studio. For example , I go to a jazz session at the university every Wednesday night with a group of friends. Listening to the music is the perfect opportunity to draw and think visually and I keep all my funny jazz program handouts with my drawn or verbal ideas. When I travel those long long flights is also a time I use to think, contemplate and often draw.
In developing my own work, I always put the design first, then I find a technique to do it, allowing the work to change as it goes along although I have started with an idea. I do a lot of writing and write down what I want to communicate in each quilt and this helps me edit  my work.
Katiepm: Thank you so much for this little insight into your very exciting life of quilting, and traveling and creating.
---
Judy Warren Blaydon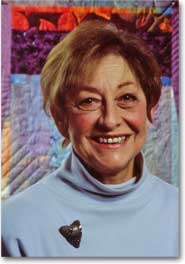 Katiepm: What draws you to working with fabric and making quilts?
Judy Warren Blaydon: Before I was a quilt-maker, I was a painter and I loved making acrylic paintings on canvas, that suggested an aerial view looking down onto a bed covered with a quilt. I was inventing little patterns of fabrics  with  a 1/8″ Japanese water color brush.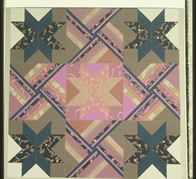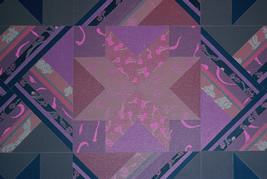 One day, I was working on one at my kitchen  counter when my grandma was visiting; she walked through the room, looked at what I was doing and said, "If you like them so much why don't you make a real one?" and walked out.  I thought, "Oh! good idea!"  Of course, I didn't know anything about making a quilt! My first quilt was so horrible that anyone with any brains would have given up and taken up something else. But the next quilt I made was "Hot Mobius" and it got into Quilt National 1981, and that was really exciting.

Katiepm: Wow! From the worst thing to a Quilt National piece in two quilts is quite a feat! Amazing!
Judy: It takes me much longer to make a quilt than to make a painting of that same quilt. But there is something really friendly and comforting about fabric,and the touch of fabric. I think that's how we 'see' it – – –  by touching it; not only by looking at it, but by feeling  it. And I love the texture of the quilting and the light and shadows that it makes.
Originally, my quilts often began as a little tiny ball point pen sketch next to the crossword puzzle in the newspaper. They were always about some thing or some place but not pictorial. They were always, always symmetrical, left to right; there was always a center vertical axis.
I found that symmetry to be elegant and very serene.  I have always been in awe of people that could do something that was asymmetrical and more spontaneous but, when I tried to do that it was obvious that I was consciously  trying to be something that I wasn't comfortable with.
When I started playing with the collage process in 2005, it was an intuitive experiment  for a while. Working with images from photographs, I found it really easy to slide the images around and overlay them and have them disappear behind one another. I can't explain why, but in that process  the compositions started to become asymmetrical. I love the process of playing with pieces of paper rather than worrying that I am going to cut up a piece of  $16.95 per yard hand- painted silk and then wish  that I hadn't. When I am working with fragments from photographs, I find it is way more informative  than a pencil drawing or a line drawing on graph paper because I am seeing color and pattern and texture; by sliding a piece an 1/8th of inch to the right or the left, seeing an area  disappear and another part emerge, I get to see really quickly if I have something that is appealing or intriguing that I want to see on a larger scale.
Interestingly, most of the quilts I have done from the collages all have the words "sub rosa" in the title (which means 'under the rose')  implying something that is secret and hidden. There is almost always a dividing line in the composition, which I use to represent  a really abstract 'horizon';  so these quilts are really imaginary landscapes, and they are not pictorial.  Some of those pieces are on the Alegre Retreat web site, I think.
Katiepm: What made you start creating this way?
Judy: For the first "Sub Rosa" quilt, I used fragments of pages from a fashion magazine, ripping out details of garments  and  advertising photos that appealed to me because of their visual content, and I experimented with them and put  them up on my studio wall.
Katiepm: Yes, we had a conversation about that at QBL one summer. Your students were doing fantastic things but, I could see, if you wanted to use their works or images in a lecture or a book they would have to get permission from the photographer or owner of the rights to the ads. I suggested you have them use their own photographs so there would be no copyright problems.
Judy: Which made a great deal of sense to me, especially in teaching the workshop. It is one thing for us to rip out beautiful textures and patterns from somebody else's resourses, but it is totally another thing when you are there from the very beginning. You are the one with the camera in your hand and you are picking out the details of the landscape or the textures of the bill boards or the peeling paint on urban walls. Everyone has access to hundreds of images because they are using digital cameras – – – and that generates a collection of abstract imagery, almost like a miniature fabric collection. If  you use them for collage elements, then, the fun part is, can you translate that to a larger scale and still respect the integrity of the collage, translating the colors and textures that you are looking for, from the collage to the fabric? The students bring 5 or 6 photographs to the workshop and they go through a series of exercises to become familiar with the collage process. They do these experiments using my photographs, because it is easy for them to tear and cut up somebody else's photographs.
Katiepm: They are not precious to them.
Judy: Right! Then when they get to their own photographs they are a little more comfortable with not including every little detail, which would result in a pictorial quilt. They are able to use a viewing window to pick out really beautiful abstract elements from larger photographs and start playing and combining those.
Katiepm: They bring fabrics from home that match their photographs?
Judy: They bring fabrics from home that, hopefully, include every color and texture  they might use from the photographs.
Katiepm: What do you think about when you are doing this?
Judy: I think about how challenging it is to look at a collage that may be 5″ x 6″ and  know that you want to see it five feet by six feet. The challenge is in finding fabric that will work with respect to what is there in the collage, which is like a diagram, only it is in color. When you are increasing the scale, the fabric that you have might be too small a scale, which involves  creating yardage that will give you the scale that you need. We all know that a fabric that looks really great when it is a three inch square might look really horrible when it is a three foot square. The scale doesn't correspond, so you might want to  piece and appliqué, inventing your own large scale yardage that you will then use for the quilt. It is a three or four part process;  the first step is to create a collage that is so intriguing that you want to see it in fabric. The next step is to either find or create the fabric, and at some point you may forget where you have put the collage because you are so involved with what is on the work wall that it doesn't matter anymore. It is such a concrete start that it gives you something really definite to begin with; then any changes that come along the way happen because, even though you began with the collage, you like what is happening on the wall better, and that is perfectly fine. So, it is not a tight and restrictive process; it is very loose in terms of letting the fabric suggest what you want to do with it.
Katiepm: What is your education?
Judy: I have a BA in Art Education and an MFA in Printmaking and Textiles from  the School of Art at Bowling Green State University in Ohio. There was no "quilt-making" curriculum, so I printed and painted original  fabric yardage and made it into quilts. I  may have one of  the first MFA's in which quilts were the major media.
Katiepm: When you were doing the paintings of quilts, was that before the MFA?
Judy: Way before; until 1980 I was painting.  I didn't go to grad school until I was 45 years old; a late-in-life decision. I had been teaching quilt workshops and Drawing and Design for freshman art majors part-time at the Toledo Museum School of Design and at Bowling Green. Two different department heads suggested that it was too bad I didn't have an MFA. It took me 6 years because I was teaching quilt workshops while going to grad school at the same time.
Katiepm: Yes, you are a great teacher; I have taught alongside you and have seen what your students have done. This is your second book.
Judy: Yes, I write a book every 15 years, like clockwork! I hope we are all around for the third one!
Katiepm: Do you enjoy writing?
Judy: I do actually. I found, when I was working on "Collage+Cloth=Quilt"that I like writing because it is like making a quilt. You have a pile of visual ideas and you sort them down and organize them; you take a paragraph and move it to the end of the chapter in the same way you move the turquoise fabric and put it at the top of the quilt. It is the same kind of process. Don't you think so?
Katiepm: Yes, 90% of the time I enjoy it; and then, when I  finally hand in the book I say, "I am never going to write another book again"; and then time goes on and I get another idea and make the quilts and teach it as a class and then it has to become a book!
Judy: I agree! Except that when writing a book my hand starts to miss touching  fabric, which for me is more comfortable than the computer key board.
Katiepm: What do you feel you get from teaching?
Judy: I love teaching. I have gotten more back from my students than I could ever give them. I think that we are so lucky, because the women  we come in contact with are so industrious and so funny and so smart and never lazy . They are really inspiring to be with.
Katiepm: What is next for you on your horizon, on your Sub Rosa?
Judy: There is a photograph on my bulletin board in my studio that Frank, my husband, took of the interior of his TR3 engine that is so beautiful! You can't believe it. You would never guess that it is an automobile engine; it has a horizon and corroded beautiful rusted metal and shiny chrome and I keep looking at it when I am in my studio and it is really intriguing me. That may be where I go next.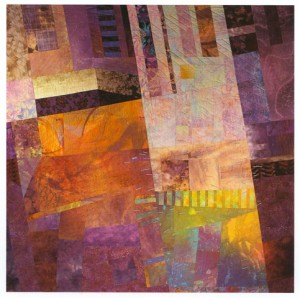 Katiepm: Oh! I can't  wait to see that.
Judy: In the meantime, I'm continuing to explore my series of "Sub Rosa" quilts inspired by photo collage 'sketches'—the newest one, "Venice II" received a juror's Choice Award in the 2010 Quilts=Art=Quilts show at the Schweinfurth Art Center.
---
Nancy Crow: Three Decades of Art Quilting 5 Mar 2010 by pippapatchwork
This interview is courtesy of QuiltingArts.com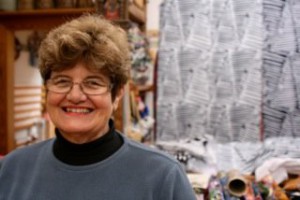 There is no doubt that Nancy Crow is one of the most influential individuals in the history of art quilting. From her intricate geometric pieced to quilts to her well-known teaching workshops and her co-founding of Quilt National in the 1970s, Nancy has been pivotal in advocating for an defining the art quilt. Having made over 300 quilts, she is still a prolific artist and currently has an exhibit, "Nancy Crow: Crossroads, New and Recent Quilts," at the Fuller Craft Museum in Brockton, MA, which will be on display until May 9th. A couple of weeks later, her largest solo exhibition to date, "Nancy Crow: Recent and New Work," will open at theSchweinfurth Memorial Art Center in Auburn, NY, where it will be on display from May 29th to August 15th. Here, Nancy discusses the techniques, influences, and adventures that have shaped her 34 years of experience as an art quilter.
You began creating art quilts in 1976. How has your approach changed, or has it?
My early work was very much grounded in traditional quilt making, using templates which then fit together into huge compositions. I made very big works at the beginning of my career, and I worked that way until to the mid-to-late 80s. In 1990, I realized I had to go about this a different way. Templates were really restricting, and I felt like I couldn't truly create art that way.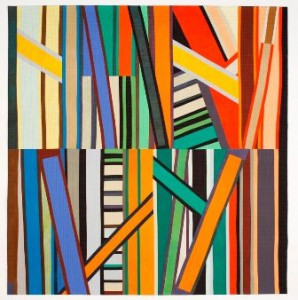 Then I realized that any kind of cutting, whether with scissors or a rotary cutter, is drawing. When that finally latched into my brain, it released me and I started working more improvisationally. That's now what I teach in my advanced classes: you have to start thinking of cutting as drawing. It's the closest thing quilters have to a pen or a pencil. The big difference for us, of course, is that the result is either good to go or we've ruined a piece of fabric. Very serious quilt makers have not been given their due for how technically difficult their work is.
Cutting and machine piecing is clearly a very important part of the process to you. What role does surface design play in the creation of your quilts?
I started dying my own fabrics a long time ago so I could achieve very saturated colors. But I didn't start doing true surface design with patterning and printing until about five years ago—though I played around with it many times over the last 25 years. It's an area where I'm still developing my abilities and I will continue to pursue it. I'm mainly interested in screen printing, making my own motifs improvisationally or actually having a screen burned, and in deconstructing the fabric.
Your quilts are known for their exceptional use of line and color. What inspires your designs? Do you get your ideas from concrete visuals or abstract ideas and emotions?
I live on a farm and I am a very keen observer, so I keep going back to the same patterns that I love. For instance, a critic once said my work looks like pickup sticks, which I think is a very interesting idea. I certainly have a few piles of lumber laying around  that are chaotic looking and one of our fields is covered in wild flowers that deteriorate every spring and fall down into piles of lines—clearly, these images are influencing my pieces.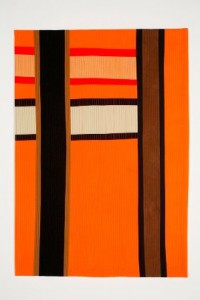 But there are always two things happening in my art: the visual influences and an emotional underlay. All my work has a very strong emotional underlay which I don't necessarily write up or let people know about.
You work in a 2,400 square foot barn that is attached to your house. Is this space very important to your creativity?
I always feel like I am walking into my environment, somewhere that enables me to create. I have put the most wonderful things on my walls, things that are visually stimulating to me. I actually have three studios, but the biggest one is just chock-a-block of visual stimuli. I love it that way and I actually have a hard time letting anyone else into this space because it's so private. I have textiles from all over the world, some really phenomenal baskets that I've collected, and my husband has found all sorts of odds and ends from the farm, like parts of old tractors. I love the shapes and configurations from these objects.
You have stated that quilting is a very personal, private activity for you, but also do a lot of teaching and are well-known for your retreats and workshops. How is your teaching important to your identity as an artist?
I come from a family of teachers so it's something that's highly regarded in my family. I think teaching done well is one of the hardest things someone can do in their life, but it's also incredibly creative and fulfilling. As a teacher, I do things a little differently. There are very few who are teaching composition and critiquing it, and this has to be done if quilting is going to be regarded as art. Because I'm willing to do critiques, I put myself out on a line and to try to help people see their work in a more honest light so they can improve it.
Teaching  also helps me clarify my own ideas. I always learn a lot from students. I think there's a misconception out there that I teach people to make what I make, to make work that looks like mine. I teach techniques and design exercises with the intention of having my students go home and work hard for a year or two to develop their own ideas.
Can you tell us a little bit about your upcoming exhibit at the Schweinfurth Art Center this summer? How were the quilts selected?
First of all, the museum's director, Donna Lamb, is outstanding in her absolute support of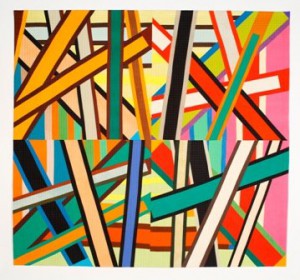 quilt making. She was brought up with it since her mother was a quilt maker. It's a huge plus to work with someone who believes in quilting and has done it themselves; she is a very positive person.
Between 50 and 60 pieces will be in the galleries. I decided to include some very early pieces from when I still worked with commercial and printed fabrics. Some of these pieces haven't been out of my studio in 20 years and will enable people can see where I came from. The exhibition isn't a retrospective per se, but each gallery will have a theme. One will have the older pieces; another will have a sketch and the major piece that went with the sketch. Another gallery will have more narrow/vertical pieces, and the main gallery will have all the new and recent work.
You travel quite a bit and just returned from a trip to Vietnam. How does this influence your work?
Travel was introduced to me very young because my father and mother love to do it. When I was 19, I went to Mexico City and studied there.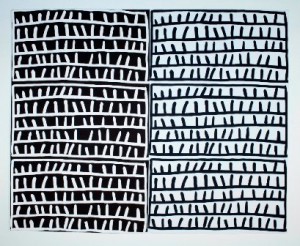 My mother took me around the world when I was a Junior in college. Years later, my husband and I went off to live in Ecuador and Brazil. Travel is an opportunity to observe and see what I can see.
Because I was introduced to Mexico so young, I love graphic imagery; that's why my work is so colorful and vibrant. I go back there often and have a plan to go to Chiapas in August with some friends and search the villages for textiles.
Are there any artistic techniques, concepts, or ideas that you still hope to explore?
I'm 66 and I have made a decision and promise to myself that my work is going to keep growing and changing. I'm not interested in plateauing and doing the same thing. As long as I'm physically able, that's my promise to myself. Perhaps this will mean exploring certain techniques in depth, perhaps not. I'm open to anything.
To learn more about Nancy, visit her website.
Images: From Top to Bottom
All quilt photos by J. Kevin Fitzsimons
Nancy in her studio; photo by Nathaniel Stitzlein
"CONSTRUCTIONS #83: Anxiety!" • 2006-2007© Nancy Crow  81½" x 79¼" • 100% cottons hand-dyed and machine-pieced by Nancy Crow; hand-quilted by Marla Hattabaugh with pattern denoted by Nancy Crow
"CONSTRUCTIONS #90" • 2007© Nancy Crow  • 42″ x 29¼" • 100% cottons hand-dyed and machine-pieced by Nancy Crow; machine-quilted by Kathy Loomis with pattern denoted by Nancy Crow
"CONSTRUCTIONS #84: No!" • 2007© Nancy Crow • 70″ x 75″ • 100% cottons hand-dyed and machine-pieced by Nancy Crow; hand-quilted by Marla Hattabaugh with pattern denoted by Nancy Crow
"STRUCTURES #5" • 2006-2009© Nancy Crow • 67½" x 84¼" • Screen-printed by Nancy Crow with help from Emma Reese; machine-pieced by Nancy Crow; hand-quilted by Marla Hattabaugh with pattern denoted by Nancy Crow
This interview is courtesy of QuiltingArts.com, The original interview can be found at:http://quiltingarts.com/blogs/pippa/archive/2010/03/05/nancy-crow-three-decades-of-art-quilting.aspx
---
Jane Dunnewold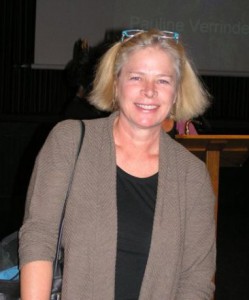 Katiepm: Tell us the history of Jane Dunnewold.
Jane Dunnewold: In college I was a psychology major, I thought I was going to go into the ministry. While visiting my boyfriend after graduation I took the first class that Michael James taught at the Massachusetts College of Art. I was so bad! I couldn't sew straight ormatch corners and I think that Michael was totally disgusted with me.
That's the beginning of an important thing every artist must go through, figuring out what one's strengths are. Sewing wasn't really my strength but I loved the involvement with the fabric. Later in that summer my boyfriend proposed. We got married and moved to San Antonio, Texas, where he was a trumpet player in the symphony. I started taking additional embroidery and appliqué classes at the Southwest Craft Center, with Wilanna Bristow, a famous needleworker. I started studying with her and it opened up a whole new world of embroidery and appliqué. I absolutely adored it! That was how I got my start.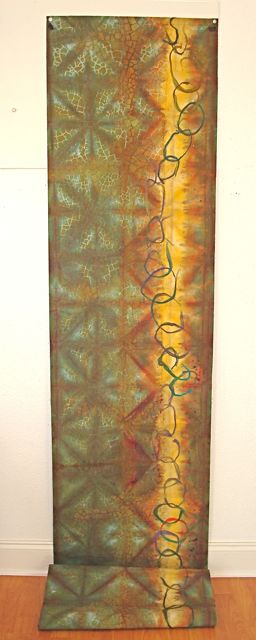 Through my connection with the Southwest Craft Center and the artist in residence program they had. I was able to work with many of the famous artists of that time. Barbara Lee Smith, Randall Darwall, Katherine Westphal were in the program. This was the generation before us. A lot of those people aren't alive anymore. They came to the craft center and I was their assistant. I was able to see these people do these incredible things. I think that has shaped the sensibility I have of being an experimenter and of being willing to run risks.Fast forward, I divorced and re-married and my new husband was a chef.We had a restaurant and it collapsed. My first inclination was to go back to the craft center, to talk the director into giving me a job to start a design studio. It took me three months to get the studio ready,
hire the teachers, and learn about surface design. I was a psychology and religion major! I am completely self taught. I got the classes up and running. The thing that was really great was that I had very
enthusiastic students, and they were willing to show me things that they knew. So, in a sense we learned side by side for the first couple of years. I was there for 10 years. Then my book, Complex Cloth, was published and I wanted to go solo. When I left the center there were about 15 teachers each semester. We had a really strong program. I was very proud about that, but I wanted to go on the road by myself. That is what I have been doing since I left the Craft Center in 2001.
Katiepm: That is quite an amazing accomplishment!
Jane Dunnewold: I am a hard worker.
Katiepm: You started an amazing education center.
Jane Dunnewold: Yes, that was good. It is an alternative art school so there is a lot of freedom for the artists to explore their own work. That was really a gift. I was not just paid to administrate, they were also paying me to explore my own work as much as they were paying me to teach. That was a tremendous gift at that point in my life. It gave me the opportunity to study and learn so that I could become an expert in the things I was teaching.

Katiepm: That is quite an education, for you and your students. So the ministry went by the wayside with that first proposal.
Jane Dunnewold: Yes, I realized that was something that my dad wanted.We all have to come to terms with what our parents wanted us to do. Mydad was a pastor and he wanted me to follow in his footsteps, he had no sons and I was the oldest. It appealed to me. Those of us who have worked to become good and effective teachers are successful because of a natural talent with people. We work to refine that. It doesn't really matter if we are in the ministry or in the classroom, many of the skills are the same.
Katiepm: Teaching does include the same skills as preaching. We are up there preaching our beliefs in our art. We are building confidence in our students and encouraging them to be courageous and grow in their art.
Jane Dunnewold: And inspiring them!
Katiepm: You went solo, making your fabrics and teaching my Complex
Cloth classes. I know that you had a booth at Houston with several other
ladies and you were selling your cloth.
Jane Dunnewold: During the time that I was still teaching at the Craft Center I was friends with so many wonderful people like Beth Kennedy, who designed fabrics as well. Several times we had collaborative efforts at Houston. We would share a booth and bring our custom made fabrics. I would also be teaching and lecturing at the festival. All of those things were getting people interested in this idea of complex cloth. I think it was just an idea hanging out there in the atmosphere. People were gravitating toward that idea anyhow, so I was in the right place at the right time. It is amazing to me, even now, how many people are shy about putting more than one process on a piece of fabric. When somebody gives them permission they love it. I think that is what happened in those early years, people would come into the booth and look at the dying and then the printing on top of that and then the foiling on top of that, they were just mesmerized by it.
Katiepm: That is what you mean by complex cloth, many different treatments on one cloth.
Jane Dunnewold: That is how it started but, I am trying to broaden that. Complex cloth is a term so tied directly to me that I have been trying to suggest to people to use the term "Art Cloth". Anything can be art  cloth, if it is quilted then it moves into the area of being an art quilt just by the nature of the structure. Many pieces could be considered art cloth. They are often panels that are backed but are not stitched. I like this idea of making surfaces that are rich in design no matter how they are approached. It can take on a life of its own as a new way of conceptualizing the fabric surface.
Katiepm: What are you doing now?
Jane Dunnewold: I just finished writing a new book that will be out in June, Art Cloth, A Guide To Layering On Fabric, Interweave is publishing it. I have had a really great experience working with them. I am very excited about that. It is a huge amount of work, and there is this big gap between writing it and having it done. While they are putting it all together I begin to feel that it is just a dream, as I wait to have the book in my hand. It is very exciting that it is almost done. I will have copies to bring to Alegre Retreat in June, that will be fun.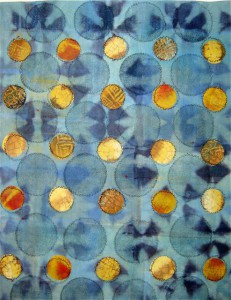 Katiepm: How exciting! I can't wait to get my hands on it either. I am sure that it will be filled with information.
Jane Dunnewold: The new book includes everything that I have learned about discharge, printing, color and design. Complex Cloth , my first book came out in 1996, that was a pretty long time ago. This is a more in-depth look at all of the processes that can be used to layer fabric.  It has huge color component. The longer I teach the more I observe this; most people need help on how to be more successful with their color choices when it comes to dying fabric and using textile paints on the fabric. Too often we settle for colors because they are close to what we want, but they are not really right because we don't know how to mix them. Art Cloth talks a lot about the color reality of the dyes and the paints that we use, and how to be more successful in that regard. It is a pretty comprehensive look at color. It will have lots of beautiful color pictures. I was lucky to have an editor that knew nothing about surface design. That was great because when my writing wasn't clear then it was obvious.
Kaitepm: Exactly, when I wrote my first books my brother was the illustrator and he didn't sew so if he didn't understand it he made me write it again until it was understandable to him. It was very frustrating but he was right.
Jane Dunnewold: I am excited because I am going to England to introduce the book at the Festival Of Quilts. That should be a really great time. I will give a lecture there and show some of my work. Then in September, I am going to Italy to teach at their new retreat center, Masseria della Zingara, in Puglia, which is on the east coast. I have never been to Italy so I am excited about that. Now that the book is launched I am looking forward to the opportunity to work in different environments. It will be interesting to see what other people, in other cultures, do with this information.
Katiepm: You will enjoy England. The English are very eager to learn and they are so friendly. Anything else you would like to share with us?
Jane Dunnewold: I have recently become the vice president of the Surface Design organization. That is a huge responsibility but it gives me a chance to give back. When I was working on my own I didn't have that much time to volunteer to do anything. Now, I have a wealth of experience that I hope they can use. I believe that the Surface Design organization is a really high energy, high quality group of artists. I am happy to be part of that.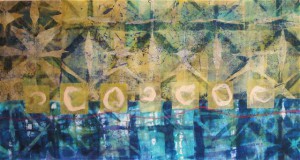 Katiepm: Thanks for talking with us. I look forward to working beside you again at the 2010 Alegre Retreat in June. See you there.
Additional information on The Art Cloth from Jane's web site
My goals for my cloth are fairly straightforward. And I look for the 
same qualities in other's work, whether it is the work of my students or 
the work of another artist who shares my passion for cloth.
It is important that the hand of the cloth be intact. The hand is the 
quality of the fabric related to how it feels and how it drapes. I don't 
ever want to put a medium on my fabric that will change the hand by 
making it stiff or hard. Some fabrics are thicker, so the hand is 
stiffer to start. A fabric like that—a cotton or heavy, weighted 
silk—can have a thicker medium applied to it, then say, a lightweight 
silk habotai, which is a scarf weight.
The subtleties of printing various media on different fabric types is 
something we learn as we go along, studying the effects of paints and 
dyes on silks, cottons, rayons, and linens.
The patterning on the fabric should also catch the viewer's eye and hold 
her attention.
Cloth may be patterned simply or may have many layers of imagery. Both 
approaches are valid. Sometimes patterning is achieved through tied or 
bound resists, or the patterning is screened. In either case the imagery 
used is all abstract and non-representational. Other artists choose to 
use recognizable imagery of one style or another. Any approach to 
patterning can work, but it must make sense to me and the parts must 
hang together.
Relationships are important.
The relationship can be a visual one of contrast—sharp shapes against 
soft-edged shapes, complimentary colors playing against each other in 
vivid combinations. The relationship can also be psychological, and this 
is work I find most exciting. For example, combining imagery from Asia 
with abstract shapes printed against a topographical map of an area 
begins to tell a story that is as interesting to a viewer as any painting.
Contrast is an essential key to producing exciting cloth. Contrast 
happens in many ways, including contrast of color, contrast of shape, 
contrast of texture—shiny foil against a matte silk background for 
example. Contrast of size plays a big role in keeping a surface 
interesting. Planning contrast and considering its possibilities is one 
of the most entertaining and challenging parts of creating art cloth.
My observations have also convinced me that work—no matter what medium 
you choose to pursue — gets done more regularly and is more charged with 
excitement and conviction as a piece of art if the maker is emotionally 
invested in the process. This doesn't mean the artist cries over her 
cloth or labors over it while wringing her hands and lamenting…far 
from it. Conviction can be centered, devoted and calm. But if conviction 
is missing—if a maker cares nothing for what is being made — if the 
making is really just going through the motions —then the finished 
object will never sing. Whether analytical, steady and deliberate, 
free-form, or serendipitous and experimental, the work I respond to 
first has the maker in it, inextricably and forever.
---
Sue Benner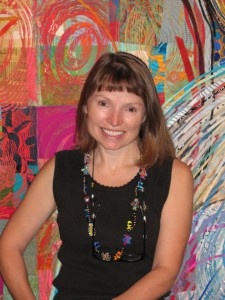 Katiepm: Hi Sue. I am so excited to have this opportunity to talk with you. You will be teaching at this year's Alegre Retreat. I would like to allow the participants the chance to get to know you a little better before we all meet in person in June. Let's start at the beginning, when did you first start creating art?
Sue Benner: When I was young, about five or six, I knew that I was going to be an artist. I told everyone this, and they, the grownups, said, "Oh that would be such a great hobby. "
Katiepm:  But you knew that they were wrong!
Sue Benner: I didn't really know that. My dad was always painting and drawing and that actually was a hobby of his. As I got older, because I loved math and science and was good at it, I figured that this would be my career path. I forgot about the art part for a long time, I put all of my creativity into sewing.
When I was really young I made basic Barbie doll clothes. Later, I was designing them and thinking about fashion. I started sewing my own clothes around sixth grade.  Throughout high school and college I made very complicated tailored suits and dresses. I would look at things in Seventeen Magazine and other fashion magazines to try to figure out how to make them.
Katiepm:  My mother made a lot of our clothes when we were young. I am number five of seven children and of us were three girls. To save money and because she enjoyed it, my mother created outfits for us. Sometimes these were wonderfully awful, so I asked her to teach me to sew that way I could have more control of what I wore to school. I loved sewing. I too had a Barbie doll closet full of clothes that my mother and I made.  What did you study in college with your science and math skills?
Sue Benner: I majored in Molecular Biology. When it came time to do my senior honors thesis, I had this wild idea to create visual representations of biological subject matter.  I had already learned to batik fabric (making stretched and stitched wall hangings) and had made a couple of traditional quilts by this time.  I decided I would do some of the illustrations in a quilt form to support my thesis.
I believe that my artistic side resurfaced because I was fascinated by form and function in nature and I had taken an Art History class during my junior year of college. I then took a Drawing and Fabric Design class during my senior year and was totally jazzed about art again. My honors thesis in my major was based on illustrations of cellular biology.
Katiepm:  Did you do drawings or quilts?
Sue Benner: Drawings, paintings, quilts and soft sculpture.
Katiepm:  How did your professor take that?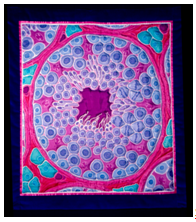 Sue Benner: Oh, my professor, Gary Borisy, was used to me by then! (Laughs)  I had taken some novel approaches in several other projects as well.  I am still in touch with him to this day. I think he and others were intrigued by my creative approach.
Katiepm:  I bet they found that a refreshing approach. How did you use molecular biology in your adult life?
Sue Benner: After I finished my molecular biology credits, I took three semesters of nothing but Studio Art classes. It would be about the equivalent of getting a minor in art. I took a broad array of studio classes; painting, sculpture, design, drawing, etc. I applied to graduate school in medical illustration because my primary interest was in biological subject matter.  I thought that was what I would do. I moved to Texas to go to graduate school.  I got a Masters in Biomedical Communications. I was still making quilts. For my thesis project, I made 10 quilts based on the cellular structure of the human testes from birth through maturity and old age. I also wrote a thesis document to support this work.
While trying to get this thesis done, I did a few freelance jobs.  I was also looking for a job, mostly in the Midwest, intending to move back up North. In the meantime, someone saw my more expressively painted and dyed textiles and thought they were really interesting work and began selling them for me.  I started to sell textiles works basically as paintings, and later worked paintings on silk and sculptural pieces. I moved on to draped sculptural pieces out of silk and then later re-incorporated my quilted work back into my work.
Katiepm:  Were you in a gallery at that time?
Sue Benner: Yes, I was selling at galleries and through an art consultant. I was self employed as an artist and living on my own in Dallas, Texas. I was also doing anything that paid me money (that had to do with fabric and art) to make a living. I did custom-painted fabrics for fashion designers and for interior designers. I even painted some awnings for a house!
(Laughs). I had to pay the bills, so I was game for anything that came up. Since I had an illustration back ground I was not so hung up on the idea that my art had to be "pure"" I was used to doing things with a definite purpose in mind, a function, or with a communication aspect, but now these were different types of free-lance commissions in the form of quilts or textile hangings.
Katiepm:  When did you start creating your fused art quilts?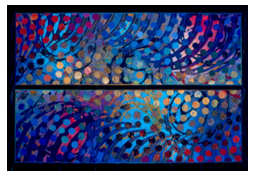 Sue Benner:  I was piecer until about 1991. I loved to piece and I still love to piece. I was mostly using cottons in my quilts at this time.  It was Gabrielle Swain who told me about Wonder Under. I tried it because I had all of these different ideas and a lot of them were based on biological forms. I wanted to use my dye-painted silk textiles which were very difficult to piece.  I thought that maybe a fused and collaged type of surface would be a way to build the kind of images in which I was interested. That first fused series was called Sink or Swim.
Katiepm:  What were the images in the Sink or Swim series?

Sue Benner: They were abstract underwater images, reminiscent of cells and biological structures. They had elements of fish, bones, skins and related biological elements.
Katiepm:  You were still relating it to the molecular biology.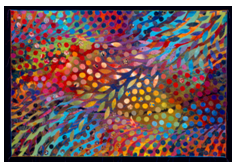 Sue Benner: In an abstract way, yes, and the forms were definitely related conceptually. The circles, the curves and the way the elements interacted were very biological.
Katiepm:  You work in series, what happens in-between two different series?
Sue Benner: I usually have at least two series going at the same time. The different works inform each other and I end up with something that is a hybrid of the two, or something that takes on an even different form. I am not a purist about regulating my work.  It depends upon what really is driving me visually at the time. Also, what deadlines I have ahead of me in terms of the venues for showing the work. As deadlines get closer, the work gets more and more focused.
Katiepm:  Tell us about some of your series and how they developed and led to secondary series.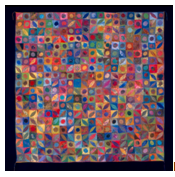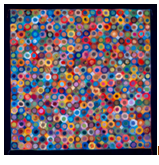 Sue Benner: Sink or Swim spawned, so to speak, a series called Skin Deep. A small study series called Perennial Hope gave rise to another series that was abstractly floral and leaf-like. There is the Leaf Study series and the Daisy Chain series that grew out of the smaller studies. The Daisy Chain studies led to the larger floral pieces. That was one strain that kept changing and morphing.
Katiepm:  All this developed over a couple of years?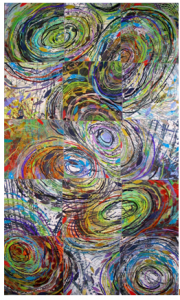 Sue Benner: Yes, actually a period of several years. Eventually I started to do the Nest series. Sink or Swim and the Nest series were both about feeling at a loss about motherhood, as well as being an artist.  The Nest series included cellular structures which was a reinvention of my original work as a medical illustrator and biology student but in a much more conceptual way, not literally cells, but more an idea of the cells as functional units.
Katiepm:  Is that what you are working on now?

Sue Benner: I have some going in that series now and in another series called Body Parts that is related in some way. I am also working on a landscape series based on my photographs of my walks in prairies. These are an extension of the Marsh/Wetland series. I often visit my home state of Wisconsin where I photograph the wetlands. Lately, I found my photography was more about the prairies because there is currently much attention being paid to restoration of the prairies. I have found that prairie landscapes are difficult to photograph. It is such an intense experience, with the tall grasses and flowers. Imagine, if you are standing in the midst, it is really hard to get a view of it. Photos from above or a distance don't show the details. But I like this challenge!  I am currently doing some works that are based on the prairie, but aren't as traditional as my Wisconsin Wetlands and Marsh landscapes have been.

Katiepm: You are very prolific, do you do your own quilting?

Sue Benner: Yes, I do my own machine quilting, I want the quilting to be my stitching and drawing mark.
Katiepm:  I like that part because all of the big decisions have been made and I just get to go in and refine it with the quilted lines.
Sue Benner: Yes, refine it, I take great joy in that part. You inspired me in this area when you said, "Well now all I have to do it quilt it!" Sometimes the quilting can be hard to start, but once I start it I wonder why I was so hesitant.
Katiepm:  Do you have any advice for our readers who may be struggling?
Sue Benner: To not worry so much about what your end result is going to be. To have joy in as much of the process as possible so that you are being in the moment with your work. Don't focus on a preconceived idea of the end product because you might miss a really good direction or creative decision along the way. I like more of an organic approach of seeing what comes along while you are working and adjusting to it. For me it is a less stressful way to work, a more joyful way to work. It is a more intellectually interesting way for me to work.
Katiepm: Thank you so much Sue. This was an enlightening interview and I love seeing all of your work.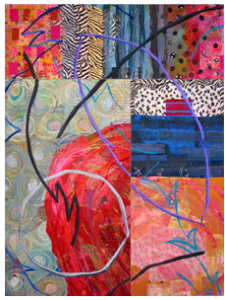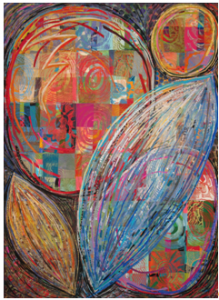 ---
Carol Shinn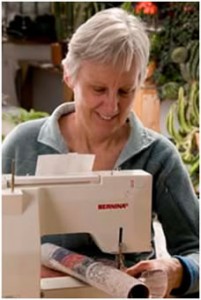 Carol Shinn is a studio artist who lives in Fort Collins, Colorado. She is known internationally for photo-realistic machine-stitched images. She holds a BFA from the University of Colorado and a MFA from Arizona State University. She has taught many classes and workshops across the United States including classes at schools such as Arrowmont, Penland and Haystack. She has also taught at Arizona State University, Tempe, AZ and at Mesa Community College, Mesa, AZ. She is the author of "Freestyle Machine Embroidery," which will be released in Spring 2009 by Interweave Press.
Katie Pasquini Masopust: When did you know you were going to be an artist?
Carol Shinn:    About the third grade, I was inspired by an aunt that came to visit who was a painter. So it was an early decision
KPM: In what medium did you work, watercolor?
CS: No we used oils.
KPM: Oh my! In the third grade?
CS:  It was wonderful. My aunt took me out in the horse pasture near where we lived, and she painted this lovely painting of the local mountain, and I daubed away. I don't have what I did, but I remember the experience. It was a really great thing for her to do for me. I love the smell of the oil paint. That was a one-time event with my aunt, but it made a big impression on me.
KPM : So you started out as a plein air painter out in the field.
CS: Yes! That sounds really good, doesn't't it?
KPM: That's really special; I knew I was going to be an artist in the third grade also!

CS: You did? That is great! What did you do?
KPM: I started out with colored pencils, copying pictures from children's books.
CS: You know, I did that too. That was my general experience; it was everything from tracing things and drawing with pencils and crayons.
KPM: We started with the good materials. Did you study art in school?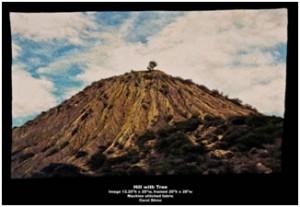 CS: They had a little program once a week in grade school. I don't think I took art in junior high, but I had one semester of art in high school. They also had a program at the Colorado Springs Fine Art Center for grade school kids. You took 50 cents every time you went; it was a good thing. A big influence for me was connected to that. While I was waiting to be picked up after class, I would go into the Fine Art Center. I had to go through the Colorado College art school to get there, and fell in love with the intoxicating smell of oil paint. Back then you could go into the Art Center without paying, and I could go in as a child unsupervised.
KPM: Did you go to college for art?
CS: Yes, I received my BFA from the University of Colorado in 1972 and my MFA from Arizona State in 1988.

KPM: Were you working with thread at the University of Colorado?
CS: No, they had no fiber program.  We didn't need to state our specialty, but I logged the most hours in printmaking and pottery. After my BFA I wove for over 12 years before deciding to apply to the MFA Program at Arizona State University. They had a good fiber program that was run by a well respected tapestry weaver, Janet Taylor.
KPM: Were you doing the thread painting that you are creating now?
CS: I was involved with the weaving guild in Champaign Urbana, Illinois before Graduate School. In graduate school I started making tapestries as well as taking all the undergraduate surface design classes. I started using fabrics that I had dyed, printed and painted  in hand stitched collages. A committee member said, "These are all the size of place mats, can you do something big?" The resulting piece was really, really ugly and had taken a long time to make. So I experimented with machine stitching to speed up the process. I discovered that  the machine stitching was more interesting, especially when I quit making collages and started stitching the whole surface . Then the "place mat" size was okay because it made sense with the imagery and the size of the thread. The shading and the intricate detail came gradually as I continued to work.
KPM: How do you start a piece?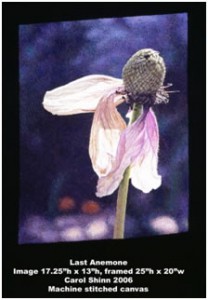 CS: When I started this technique there was no transfer paper. I would grid out my canvas, draw and paint it from a sketch, or a collage of photographs, and then come in and stitch. The gridding and painting takes a lot of time, and the painted surface was not an important part of the finished piece. Once heat transfer paper came along, I grabbed on to it because I could skip the painting and get on with exploring the textures and the colors with thread. What is important to me is discovering how things are visually put together. I use a photographic image to stitch on, but that is only for shape placement. I study how I can use composition, colors and textures to say something, and I do my photographing with that in mind. I usually alter my photographs in Photoshop, but changes happen while I stitch as well.
KPM: The excitement about your work is from all of the different threads that come together to show the rust of an old car, the reflections in a glass window, or the shadow from a chair across the patio. The detail is incredible!

CS: In our daily lives we don't take time to look closely at the world because our minds are on other things. Even when you are on a vacation and looking at something special, your mind isn't on the details of things. The way that I really understand the physical world is by sitting down and analyzing the minutia, the relationships of shapes, and the textures. It becomes this Zen thing that I become the thing that I am stitching. I become the gravel. I become the clouds and the peeling paint. Then I can really understand the way that light falls on the things and develop those aspects.
KPM: When you do that are you looking at a photograph?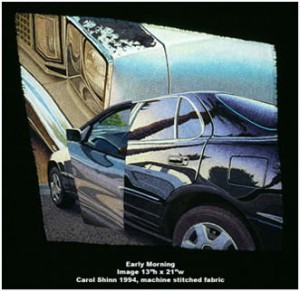 CS: I am. I tape photographs to my sewing machine. But before that, when I am photographing, I also try to find the details and textures that will make a good piece. The photographs are then manipulated in Photoshop to emphasis aspects that are most important or most interesting to me.
KPM: It is a matter of the seeing.

CS: Yes, "Seeing" throughout the whole process. I focusing on the "Seeing" of something rather than just glancing and saying "nice" and moving on. Another thing, I try not to choose the prettiest thing to photograph, but try to use an image that is more investigative.
KPM: How do you choose the threads for your work?

CS: I use many kinds so that I can have as many colors as possible, but they are all cottons, polyesters and blends with a cotton-like sheen.  I don't use rayons, shiny polyesters, or metallics. I also avoid the very cheapest brands, but I do use the newer Coats and Clark polyester threads for the subtler colors they offer, even though the quality is much less than the older Coats and Clarks poly/cottons.  I mostly use a mechanical machine so the lint is not the issue that it would be if I were using a computerized machine.
KPM: What kind of machine are you using?

CS: I use a mechanical Bernina 1008, but  the computerized Berninas and many other computerized machines work for my technique as well. The tension is easier to control on the mechanical machines because the machine isn't trying to override what I wish it to do.
KPM: You mentioned once about burning up motors.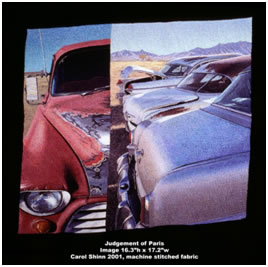 CS: Yes I have burned up several, but that's more because I'm not paying attention to the machine than the fault of the machine. I listen to books on tape using earphones, and I don't always hear a change in the sound the machine is making when it is saying "please stop and fix me!"
KPM: You listen to books on tape?

CS:  I can do a better job when part of my brain is turned off so that it doesn't interfere.
KPM: That is really interesting , I listen to classical music, what I call right brain music, music without words, so that my left brain, the part that has to focus on the words, does not take over in its job of understanding what I am listening to.
CS: If I listen to music I am soon engaged in my own story telling. Then I do start paying  too much attention to the story. It is better for me to listen to someone else's story.
KPM: Interesting, I profess the power of music to quiet the left brain and now I am really understanding how your way would work depending on how your brain works.
CS: I find that when I listen to music it is hard to concentrate on the music. There is something about the books on tape that gets the left brain out of the way.
KPM: Yes, out of the way, that is a good way to put it. Tell us the different kinds of series that you have worked in so far.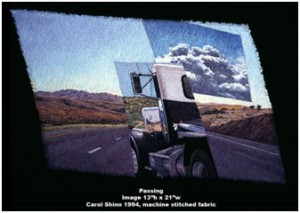 CS:  In graduate school I invented an imaginary life form that was called "speed worms" (genus– Veloxvermis). I made up different species that could be found in different places. Veloxvermis evolved from Paisleyvermis. Paisleyvermis became extinct, but Veloxvermis survived because they had gone to the Bauhaus and had become streamlined. They could travel so fast that you couldn't  see them with your naked eye, only on high speed film. Depicting all the different environments where the different species lived  got me interested in landscapes. Once the landscapes became more important than the Veloxvermis, they disappeared, and the landscapes continued.
No landscape is without human connection. The way that we get out to experience the land is usually by highways. Soon my landscapes included highways, and then I started including cars and trucks on the highways.
I had a show that was coming up, and I didn't have time to drive out into the country and photograph, so I photographed cars in my local shopping center parking lot. There were several old cars in the parking lot, and that eventually opened the way to depicting old cars.
We lived in Las Cruces, NM for a year. Nearby Alamogordo had several wonderful selvage yards. One owner was sympathetic to letting me into the yard to photograph. It was like a museum, and I photographed as many cars as I could. At that point, I started anthropomorphizing the cars, and the idea came of depicting Greek mythology using them. That went on until I felt that I had used up the most well known Greek myths. I tried to carry that into new stories, like 1950's romance. That didn't go too far. So I created some old car pieces with no stories and realized it was getting time to change.
I had produced some pieces combining old cars with old buildings. I moved along the direction of old buildings and that finally led me to windows and doors. During the transition, I tried a number of other subjects like old sinks and bathtubs, rain puddles, and fading flowers. Finally a body of work emerged that used doors, windows and chairs.
The juxtapositions of interior and exterior views has allowed me to infer a lot about our human aloneness and about the passage of time. Composition, viewing point, and perspective  have become more important than  it was previously.  Recently  I have been experimenting with buildings and streets, but so far it has been pretty harder to isolate information in a meaningful way.  I am also experimenting with landscape again, but must decide what I am trying to say with it.  Another possibility for a series would be still lifes . But I need more photographs to work with.
KPM: Do you work on one series at a time or move between them?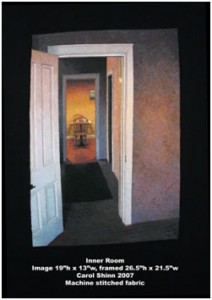 CS: I mostly work on one series, but they sometimes get mixed up during transition periods.
KPM: Yes, those transitions can be pretty tough. For me there are usually a couple of pieces that have a little bit of the proceeding and the next series in them or one really bizarre thing that goes no further.
CS: Exactly. I have done a few of those bizarre things, but you have to do them before you know.
KPM: We hopefully figure it out pretty quickly. Sometimes I say that those bizarre ones are a very short series! You spoke of one series of Greek myths could you explain that a little bit.
CS: I saw this trio of old cars when we lived in Las Cruces, showing off their back sides like beauty queens. One had her trunk lifted! This seemed like the Judgment of Paris, a subject done a number of times through the history of art. These were the three goddess that tempted Paris…. I found this bright red truck whose down-cast front light made it look confused, like he was wondering what to do. I put those two photos together as a dual image to tell the story.  I tried to choose the Greek myths that people would know, not obscure things. Among others, I used Pandora, Aphrodite, Oedipus, Achilles and Zeus. One of my favorites was Icarus after he had fallen. Instead of water I used sand.  I had a photograph of this collapsed car with the door open. It looked like a broken wing sticking up, and the car was half buried in the sand.
KPM: Tell us about your studio.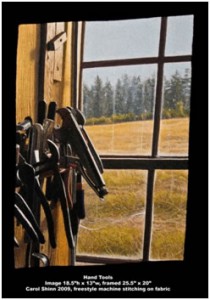 CS: I like my studio in my home. I do that not just for the cost but also so that I don't lose so much time traveling between a studio and  home.  I know a lot of people need that separation, or need to be with other artists, but for me it is a time saver. You can go into the studio whenever you have a moment, you can work at night, do the laundry at the same time, or whatever!
KPM: I agree with you 100 percent I have my studio right off the living room. With all my traveling I don't want to be away from my family. I want to create and be near them.
You just came out with a book on your techniques please tell us how that went.

CS: My book came out in May 2009 with Interweave Press, and it is doing very well. The writing of it went pretty fast. I wrote part of it, then had to break for awhile to make work for several shows, but the final writing only took about four or five months. Tom Lundberg was instrumental in editing. The title is Freestyle Machine Embroidery: Techniques and Inspiration for Fiber Art.
KPM: Are you still traveling and teaching?
CS: I am on the road teaching about four times a year,  but in coming years that may be less.
KPM: What do you enjoy doing when you are not at your sewing machine?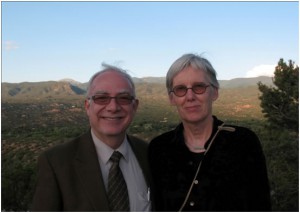 CS: In the summer I do a lot of gardening. I like to hike. In the winter we cross country ski, and I like to read.

KPM: I met your wonderful husband Randy he seems very supportive.
CS: He is very supportive and was very excited about the book. He did a lot of the photography for the book and continues to photograph my work.
KPM: Thank you so much for giving us this insight about your work.
---
Fran Skiles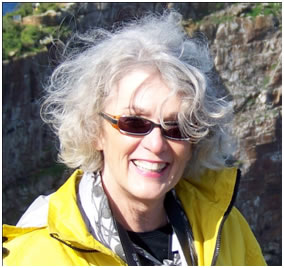 Fran Skiles has been a full time studio artist for the past twenty years, residing in South Florida and recently the Eastern Panhandle of West Virginia. She maintains a studio in each location. In addition to studio, work, Fran has been conducting workshops in paper and fabric collage construction throughout the country for the past eight years.
In the 1990's, before she began producing collage paintings, Fran made art quilts and exhibited them Nationally and Internationally. The venues included Quilt National, best of show 97, Visions Quilt San Diego, British Crafts Council's, American Art Quilt exhibition, Fiber Arts International and Art Quilts: America of the Millennium in Strasburg, France
Katie Pasquini Masopust: It is so great to be talking with you. You were our first teacher at the new Alegre Retreat and we had such a great time. Your students did an amazing job. So it is so good to chat with you again. Let's get started. When did you first realize that you were an artist.
Fran Skiles: That would have been when I was old enough to hold a crayon. I remember getting in trouble with scissors, I just had to have them. It was one of my tools early on. I just about poked my eye out when I was a tiny kid and remember my parents being furious with me. I was wielding a crayon and everything else! I was cutting, pasting and drawing. Then someone gave me some fabric, I don't think they even gave me a needle and thread, so it was cut, tie and glue. I thought that I was an artist in the second or the third grade. I was in my art class when a visiting professor came to the classroom. He singled me out and said you are going to be an artist someday. Well I didn't have a clue what he was talking about,  but I understood the concept. The reason he said that I was going to be an artist was because I wasn't following the teacher's instructions. I suppose most artists turn a blind eye to instructions. I've found that to be true in my workshops, students always go their own way. That is what I find so exciting about teaching. I was directed into sewing as a child, making my doll clothes and my own clothes. In high school it wasn't cool to be in home ec. so I stayed away from it. In college I received a BA  in home economics with a minor in art. I didn't know what was in store for me but I was following my passion. And I was also trying to stay away from chemistry and math. I did have some motive there.
Katiepm: When you were in college getting your B.A. what was your medium and form of expression?
Fran Skiles: Tailoring, sewing and dress design. In my art classes I took figure drawing and design, the basic art classes, and I took a collage course. The home economics was totally geared to fabric and fabric construction. I had to take a cooking class. I don't know if you have ever done that before, but the nets you have to wear to keep your hair back are hideous! I was just a little naive child, and had no clue about how life was going to unfold for me. How was I going to take care of myself ? That is pretty much the way that I have approached life!

Katiepm: You really didn't do that much art in college then?
Fran Skiles: No, not really. It wasn't until the 1980's when I returned to a community college in Fort Lauderdale. I took courses in oil, acrylic and watercolor. I also took two art history classes. The information that I received from art history classes was the best foundation that I could have given myself. I try to impress that on my students. Art history is an invaluable way to train your eye. I think that is what art history is all about. It came at a good time in my life, I was in my 40's, a wonderful time to pick up and continue my education, just for the joy of exploring other mediums, I was not going for another degree. I also took two photography classes and that was very helpful.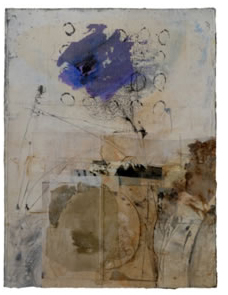 Katiepm: What did you do between these two educations?
Fran Skiles: I had my family and I was manufacturing, so to speak, my craft items at home and selling them at art festivals.
Katiepm: What kind of craft items were you making?
Fran Skiles: Oh my goodness, I did hobby horses, purses, any kind of sewn item. I was in it for self gratification, as we all are, but mainly to sell. That was my goal. If I sold out I was thrilled. I did this for 16 or more years. I didn't go out of Florida because Florida is a breeding ground for art festivals. I traveled all over the state hawking my wares. Each year I would think of a new format, a new solution of arranging and sewing material together. It wasn't too long before I was creating framed pieces. They were original fabric collages, sewn, matted and put under plexi glass. From that time on I started to think of myself more of an artist than a craftsman. The sales were good. The last art festival I did, I introduced art quilts. This was the end of my art festival operation because there was a dirt and the quilts did not sell. I started getting into competitions then, Quilt National and that sort of event. I haven't returned to art festivals but certainly enjoyed every minute of it.
Katiepm: I followed your work for many years. I remember calling you and asking you to teach for me at Alegre Retreat. You weren't too sure and told me that you hadn't really taught before. I was developing a new class for Alegre and for the rest of the year we would talk and encourage each other in our class development. You were worried about filling the class and it was packed within a few months with a waiting list. You were great!
Fran Skiles: Yes, I remember. I started teaching for you in 2000 and 2001. The "skins" started about the same time as that class. I was developing an idea for a show I was scheduled to do at 13 Moons Gallery. I was trying to figure out a way to incorporate my art quilting into a media that would sell. That is how I came across the idea for the "skins". They can be marketed as a collaged painting.
Katiepm: Fran could you please explain "Skins"
Fran Skiles: I call my collage paintings, "skins". They are rigid, yet flexible, layered constructions of paper, cloth, paint, gesso, paint, ink and pencil held together with stitching, embroidery, and gloss medium. They are not framed and hang very nicely on a wall.
Katiepm: How do these "skins" compare with your art quilts, is the process similar?
Fran Skiles: Essentially I think of the art quilts and the "skins" as pretty much the same except for the fact that I am now using a stiff canvas to begin with and a gloss medium instead of the stitching. I found out that with gloss medium I could achieve rich layers. When the gloss medium is applied to silk or paper it creates transparent layers. I was using a little bit of paper in my art quilts but not much. With the skins I depend a lot on the paper because paper is so pliable and bendable and it can go in and out of the creases. The skins are much easier than the art quilts. They are quicker and more manageable. I work in series, which is very easy to do with the skins. I can keep a better schedule and produce more than if I were making an art quilt. I approach an art quilt as a one of a kind product and I am always changing my mind in the process. The art quilt can take four or more months to complete and that is just a little bit long for me.
Katiepm: You say you work in series. I was on a panel with you once and you gave a brilliant story of working on several pieces at one time and how you go about creating them. Could you expound upon that for us?
Fran Skiles: I work on several pieces at one time. I have them all up on the wall and I work between them all. At the end of every work session one is holding itself together in my eye better than the others. It could be more brilliant or has more work in it. I try to bring the other pieces up to the "favorite" level. It is a motivator and takes some of the pressure off me. I like to reach this level of work as fast as I can, because the piece is now talking to me and asking me to forge ahead or bring it up. Each one has its own special appeal. I would hope that at the end of the project they all come up to the standard I want to achieve.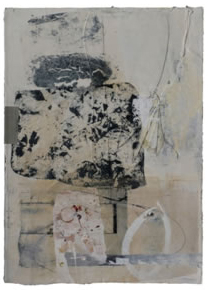 Katiepm: Tell us about some of the different series that you have done.
Fran Skiles: All of them are built around nature and sometimes construction. I start with my photography. Often my photography is just a way of getting rid of the blank canvas. The photos give me a bit of direction, they also give me content. I lay in the photos fairly quickly. Occasionally they will be totally covered in the layering process and sometimes there will be a suggestion of these first photos that show later in the piece. The last series that I completed didn't have much photography. I did a lot of abstract painting on Japanese paper and this was layered into the work. These pieces have more of an aerial view of fields and landscape. They are much more abstract. (see images of this series at the end of the interview) I am using found papers as well, whatever strikes my fancy. Lately I have been working with acrylic inks.
Katiepm: How are you finding those
Fran Skiles: I love them. I apply the acrylic inks with a bamboo pen. This is giving me great satisfaction and a lot of interesting marks. This is an important part of my work, bringing in lines.
Katiepm: I am looking at the piece on the wall that I have of yours and it has the nest image and the crow. I love all of the layers and transparencies and textures.
Fran Skiles: That was from a bird series. There were at least ten pieces in that series and they all had something to do with a bird or nest image. The bird series was in 2003.
Katiepm: I am also looking at the apron that I got at the auction at Quilting by the Lake. Each year they have an auction and the teachers are asked to decorate an apron that will be auctioned off for the scholarship fund. We all tried to out do each other. I had embellished my apron with acrylic paint to look like my new series of quilts based on my paintings. Fran you did your whole gesso, gloss medium, photo transfer, stitched, collage thing. It made the front of the apron so stiff. I bid on it and won and when I tried to wear it off the stage I could barely move my legs forward because it was so stiff. I played that up a little tiny bit.
Fran Skiles: I never laughed so hard as that evening, watching you mugging around on the stage and trying to find your seat in the theatre, bent backwards.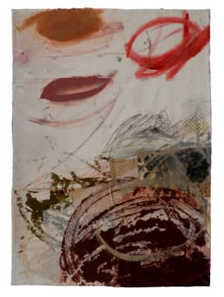 Katiepm: You are a fantastic teacher. I know you give your students lots of little hints and good advice. Can you share any of those gems with us.
Fran Skiles: One thing that comes to mind, is not to be concerned about waste. In this day of green that is not such a good thing to say, though. I think the more casual one is about one's approach and the more materials one has, the smoother things go. I try not to restrict myself. Keeping options open makes for a much more relaxing atmosphere. Another would be to have fun and to enjoy it.
Katiepm: Do you have fun and enjoy it?
Fran Skiles: If I lose that I really don't care if I do art anymore. I am a curmudgeon about fun. That is why I don't do commission work. I don't know how you get over the part about it being someone else's idea. You do commissions don't you, Katie? How do you get over the part that it is not yours?
Katiepm: I make sure that I really like the subject matter. Then it becomes another exploration. I guide the person in the decision making so that it is something that will be interesting to me and a pleasure to make. It would be tough to go into the studio to make something that I wasn't excited about. Speaking of studios, tell us about yours.
Fran Skiles: My main studio is in Fort Lauderdale in a warehouse. It is about 800 square feet.
Katiepm: My studio is off of my living room. I have never traveled outside of my home to go work. How do you like having your studio elswhere?
Fran Skiles: I do like it. Either way works but I don't have a home that can accommodate the materials and the tables. I used to work at home when I was doing my art quilting in the early 90's. It was a huge space management problem. I just don't have the facilities. In West Virginia I have another little home and I have a little tiny studio there. It is about 9′ x 14′ and it has a small table and some hanging space. I can manage about 4 or 5 pieces. It is comfortable but it is not the same as my big sloppy studio in Florida.
Katiepm: Do you make different works in the different studios?
Fran Skiles: Yes, I do. I will do the messy part in Florida and then fine tune it in West Virginia. Most of my materials travel with me .
Katiepm: Do you drive between studios?
Fran Skiles: I love the driving part, it is very relaxing to me. I do think about my art work. I think about shapes and form and line. The car is kind of a Zen place to be, you are sort of protected. Don't you think?
Katiepm: I do, I flip very easily into my right brain and start day dreaming about my work. I have missed many an exit off the freeway and have had to circle back around.
Fran Skiles: You can find yourself behind a truck that you have been following from state to state because it has a good design on the back of it.
Katiepm: I know that you take beautiful walks when you are in West Virginia.
Fran Skiles: Yes, they are glorious. I walk by the Potomac river. I also walk in the Antietam battlefield in Maryland, a significant civil war battlefield. There is a creek that runs through it called Antietam creek. I love to walk there by myself. I feel very comfortable doing that. Those are my two favorite places. I enjoy where water meets land. I don't like being out on the water. The large bodies of water seem very dull to me. Where the water meets the land is where I get most of my serenity, my inspiration and my energy.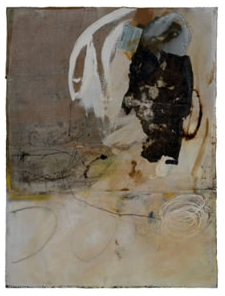 Katiepm: I love walks. They are an important way for me to start my day and to get my creative juices flowing.
Fran Skiles: I like to look for and collect rocks and sometimes leaves. I use leaf images in my work. I am not a maple leaf or an oak leaf fan because they remind me of grade school. I like round leaves. I collect them for inspiration.
Katiepm: Do you ever collage them into your work?
Fran Skiles: One time I collaged a palm frond into an art quilt. I am afraid that the material might destruct. That would be cool to embroider or stitch a twig into my work. Hummmm. I am going to dance away from this phone call, what a gift to talk about me!
Katiepm: Well I appreciate it. Thank you so very much.
Fran Skiles: You are a good audience Katie, thanks so much.
"Working in collage has been a constant in my life. Layering photography, paint, paper and fabric into a semi rigid construction allows the process to be intuitive and natural."
---