In the Industry
Here you will find information and resources for the Fiber Arts. History of the Art Quilt, History of SAQA, Art Quilt Interview, Featured Quilters, and Exhibition Opportunities.
---
History of the Art Quilt
Yvonne Porcella's Thoughts on the Art Quilt Development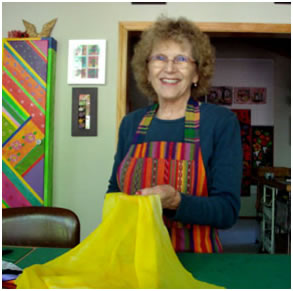 Yvonne Porcella, an artist specializing in wearables and art quilts, began in 1962 by making unique garments, wall hangings and quilts. Currently her work is featured in major exhibitions, art galleries and museums. Her work is a vibrant expression of an artist who knows how to handle color with an apparently endless palette. She hand paints fabrics to achieve a soft pastel watercolor effect and uses a variety of these fabrics to create her art. In addition to these subtle pieces, Porcella produces work that is bold and vibrant, using pure color in contrasting and synchronous relationships to convey a cumulative dynamic effect. Her work has toured in national and international shows of contemporary American quilt makers and is actively collected by individuals and corporations.
---
History of SAQA
Studio Art Quilt Associates. Excerpts from the Creative Force Show  by Yvonne Porcella.
This is the history of the Studio Art Quilt Associates from Yvonne Porcella's curators statement for the Creative Force exhibit that presented work by the founding members of SAQA. This show was premiered at Houston Quilt Festival in 2007 sponsored by Janome America.
It is a great honor to curate this important anniversary exhibit of those who lent their creativity to projects that defined the direction of SAQA. Through the generosity of out 2006 board member Karey Bresenhan and our exhibit sponsor, Janome America, Inc., we are able to present these beautiful examples of art quilts created by the artists who founded SAQA.
---
Art Quilt Interviews
Rosalie Dace
Rosalie Dace is a nationally known quilt artist from South Africa. We were honored to have her teach for us at the 2011 Alegre Retreat.
Katiepm: Rosalie, how did you come to be a nationally known quilt artist?
Rosalie Dace: I've always loved fabrics and some of my earliest memories are of feeling and playing with them. My father had brought back textiles from places he had visited and they were hung on the walls, including an embroidered saddle, cloth from India and a couple of woven west African textiles from Sierra Leone. My marvelous old great aunt, Auntie Min,  had full-length magenta damask curtains, cool silk cushions and a crunchy-feeling crepe wool crocheted afghan on the sofa. She embroidered cloths in strong colors like saffron oranges, purples and deep blues. Then there were the special pillow-cases that my Xhosa nanny, Lilian Mthembu embroidered for me in bright red and green. I remember watching her drawing around a coin to make flower petals and then writing the words "Good Night My Darling".
---
Featured Quilters
Featured quilters spotlights past Alegre Retreat teachers.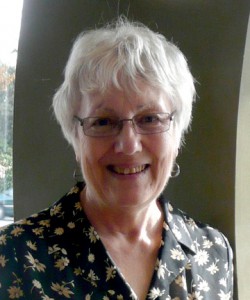 A condensed history of Joan Schulze's art making on cloth and paper begins in 1970. Beginning with her first quilt in 1974, Schulze altered fabrics in a variety of ways—dyeing—begun in 1967 which ended by 1987 now includes the following media: photography and photocopy processes (1970 to present); painting, Xerox transfer, direct and glue transfer processes (1980 to present) and digital technology (begun in 1990). Her interest in technology continues.
Many curators have noted that Joan Schulze's work relates to collage and poetry. Themes have evolved over the years. Her quilts from year 2000 continue to show her interest in nature and the urban landscape. More recently Schulze has been exploring and combining new themes related to dancing and movement.
Her black and white compositions on silk are the result of experiments to find a new way to draw. These toner drawing quilts use the photocopy machine to not only print on cloth but to create new images and marks layered on previously altered surfaces. These complex art works combine favorite themes in new ways only possible by layering digital photography, the older photocopy processes and painted cloth and paper.
---
Exhibition Opportunities
Please find below a list of exhibition opportunities. Patricia Gould has compiled this list for us. If your organization or gallery has a call for entries please let us know so that we can add it to our list.
General Calls for Entry:
www.artdeadlineslist.com
www.artdeadline.com
www.fiberarts.com & Fiber arts Magazine
www.artistsnetwork.com/artistsmagazine/ The Artists's Magazine
www.saqa.com/calendar/  Studio Art Quilt Associates