About Alegre Retreat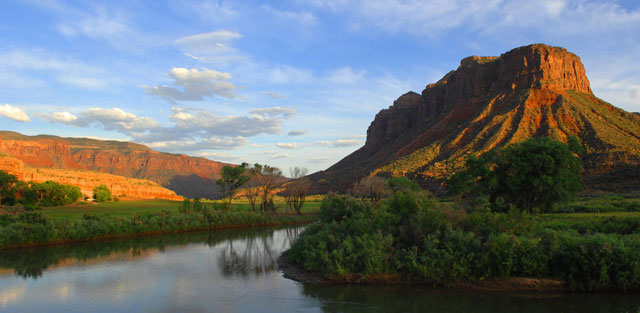 Awe…Inspiring…History
Alegre Retreat is the premier conference for devotees of the fabric arts, providing an escape from everyday life for art quilters to come together to learn and share their expertise.
Each year, dozens of quilting enthusiasts migrate an hour south of Grand Junction Colorado to Gateway Canyons.  They gather together for the Alegre Retreat, the premier conference for devotees the fabric arts.  Beginning in Santa Fe, New Mexico in 1994, Katie Pasquini Masopust has successfully organized the retreat with the goal of highlighting the variety of quilting methods and specialties in this rich branch of the fabric arts.
Faced with an awkward potential change in venue a few years back, Katie was faced with a decision to either lose a level of intimacy – a key element of the retreat – or close it down.  Maureen Hendricks, an attendee who has missed only one retreat since inception, was dismayed.  Maureen is dedicated supporter of fabric arts and was not willing to let this important gathering disappear and with her husband John Hendricks, Founder and Chairman of Discovery Communications, the number one nonfiction media company, and creator of Discovery Channel, planned a rescue.  As a result, Alegre Retreat was moved to its permanent home at Gateway Canyons.
The Hendricks vision for Gateway Canyons is to establish an intimate destination where life-long learning mixes with enjoyment of the red rock country of Southwestern Colorado, thereby feeding people's curiosity and thirst for knowledge.  A perfect match of education and intimacy, Alegre Retreat was reborn.  Katie continues as both master of ceremonies and instructor, with additional world-class artists and teachers joining her in this pinnacle quilting event.