Welcome to the official Website for the Alegre Retreat
Here you will find information for Alegre Retreat as well as fiber art. Alegre Retreat is the premier conference for devotees of the fabric arts, providing an escape from everyday life for art quilters to come together to learn and share their expertise. Each year, dozens of quilting enthusiasts migrate an hour south of Grand Junction Colorado to Gateway Canyons. They gather together for the Alegre Retreat, the premier conference for devotees the fabric arts. Beginning in Santa Fe, New Mexico in 1994, Katie Pasquini Masopust has successfully organized the retreat with the goal of highlighting the variety of quilting methods and specialties in this rich branch of the fabric arts. Alegre Retreat 2020 Do-Over!
Alegre Retreat will return to Gateway Canyons Resort in November 2021. The conference will feature Jacquie Gering's class, "Composing with Line"; Jean Wells Keenan's class, "A Sense of Place"; Laura Wasilowski's class, "Fuse-Design-Stitch"; Katie Pasquini Masopust's class, "Jumpstarting Your Creativity".
The retreat will span November 14th to November 19th and will include five days of instruction. Students can choose to study with one of our instructors, Jacquie Gering, Jean Wells Keenan, Laura Wasilowski, or Katie Pasquini Masopust and hear lectures from all four.
Students are also welcome to come in early or extend their stay to enjoy the resort at the Alegre Day Student rate (call the resort for details 970-931-2725). 
Registration now open! To register please call: 505- 470- 5202 or email:  katie@katiepm.com
Dates – Opening reception: November 14th, 2021
Classes: 5 day November 14-19th Jacquie Gering: "Composing with Line" Jean Wells Keenan: "A Sense of Place" Laura Wasilowski: "Fuse – Design – Stitch" Katie Pasquini Masopust: "Jumpstarting your Creativity"
Alegre Retreat 2022 will feature teaching by Jean Wells Keenan, Sheila Frampton Cooper, Maria Shell, and Katie Pasquini Masopust
Participant Testimonials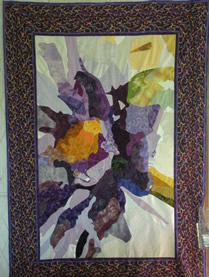 "The Alegre Art Retreat was one of the best quilting experiences I have had. I learned so much and the facilities and setting were exquisite. I can't wait for the next retreat as I am already enrolled!!!" Shandra Belknap